GuideReader Pod Features

---
Designed for Readers with Blindness or Partial Sight
---
GuideReader Pod has been created specifically for people with visual impairments that have a love of reading:
Enlarge GuideReader's menus and icons to a size that suits you
Simple talking instructions that guide you, step by step
6 high contrast colour schemes to choose from
Choose from a range of human sounding voices that are all easy on the ear
Adjust the audio speed and volume for total listening comfort
Tutorials, help and remote support that is designed by visually impaired people for visually impaired people!
---
Ideal for Total Beginners
---
Stop & start your audio book with just 1 button on the Dolphin remote
Simple step-by-step choices read aloud
Spoken help for the exact spot you find yourself
Never get lost - press and hold the back button and you're instantly back to the home screen
Entering text to search for a new book is even easy. GuideReader includes a carousel keyboard - a wheel of letters arranged A to Z. Simply move the wheel left or right to find the letter you need
---
Plugs Directly into your TV
---

Read books and newspapers using the largest screen in the house:
Connects via a standard HDMI port
Small & discreet at only 10cm x 10cm x 2cm
Tactile on/off switch
Also offers a headphone socket and mini USB port
Mains operated - no charging or batteries required
If you don't have a TV or you don't have any useful sight, add a speaker and no TV is required!
---
1,000s of Audio Books
---

Audio & Text
Experience the widest range of audio books, human narrated and delivered with large, crystal clear text, thanks to Dolphin's True Font technology. From top ten best sellers to old classics, romance to tragedy, GuideReader has them all, free and ready to read. Simply sign up to your regional accessible library provider and get reading!
Synchronised, highlighted & Super Smooth!
There's no need to compromise with GuideReader: listen to audio, read the large print text, or do both with each perfectly synchronised. NB Some books are supplied as audio only or text audio.
Book information
Learn more about the book including: Synopsis, author, format, language and size.
Supported Formats
GuideReader reads books and newspapers in MP3, Daisy 2, DAISY 3 (text and audio) and Epub formats.
USB memory sticks
If you receive newspapers or books from an accessible book provider on a memory (USB) stick, GuideReader will play those too - simply import them and they're on your bookshelf.
---
Includes the Unique Dolphin 'Remote'
---
GuideReader's Remote feels instantly comfortable and familiar. The simple, tactile buttons give you instant access to all your favourite GuideReader book reading functions: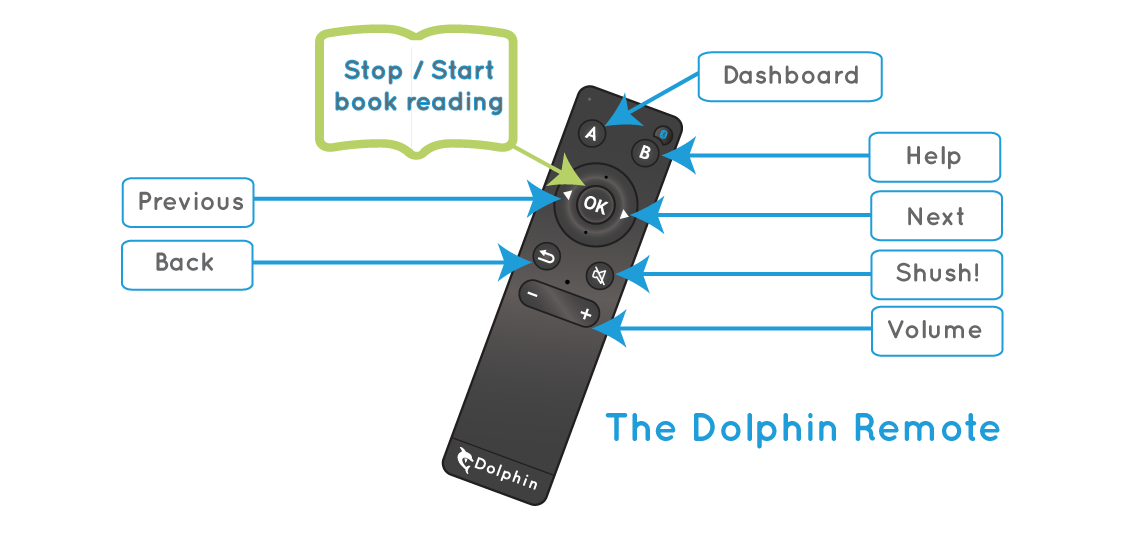 Plus good news – your Dolphin remote comes ready 'paired' with your GuideReader Pod, so it's ready to work, straight from the box.
---
Dashboard
---
Press A on the GuideReader Remote and you've got instant access to important GuideReader information via the Dashboard:
Time and Date
Battery status
Wifi signal strength
Volume
Speed
Notifications
If you're reading, you can open a list of chapters or articles too.
---
Notifications
---
GuideReader's handy notifications keep you up to date with books that are downloading. Notifications include:
Book download complete
New GuideReader update available
---
Connect & Download from a Range of Audio Book Libraries
---
Browse a range of national and international book libraries that are available in your country and in your local language.
Browse popular titles
Browse by genre
Search by title
Search by author
Explore the full list of library providers and to sign up for their free services. NB. Not all are libraries offer all search options or browse options.