SuperNova Magnifier 11.50
Released:
Version 11.50 now features new platform support for Windows 7, significantly improved performance with popular Microsoft Office 2007 applications (particularly Word and Outlook) and updated support for recent versions of Windows Live Messenger and Skype. New task-based context sensitive help, new and updated hotkey sets are also included, as well as being faster to startup.
Visual changes include: support for OpenGL applications such as Google Earth and Windows Photo Gallery. Plus, choose from a selection of new easy to see mouse pointer schemes, or now select the new greyscale colour scheme.
New Platform Support
Windows 7
Version 11.50 of Dolphn's Access Tools introduces support for both 32-bit and 64-bit client versions of Microsoft's newest operating system for desktops and laptops: Windows 7. This follows a very successful period of public beta support for Windows 7 in version 11.04, during which an immense amount of data and feedback was collected by Dolphin users. Windows 7 is now pre-installed on most new machines and was released on general sale in the final quarter of 2009.
Windows 7 features include: significant performance improvements especially on machines with multi-core processors, quicker to boot, applications are quicker to install and the User Accounts Control Prompts are less invasive. The new Windows Action Centre provides access to Windows 7 security and maintenance features, the Quick Launch toolbar has been replaced with the ability to pin applications to the taskbar, the new Jump Lists feature allows easy access to common application tasks from the taskbar, WINDOWS KEY + Arrow keys can be used to snap application windows to the edge of the screen, improved support for Solid State Drives plus much more.
For detailed information about what's new in Windows 7, system requirements, and how to upgrade, visit the official Microsoft Windows 7 pages at: http://www.microsoft.com/windows/windows-7
Note: Microsoft Windows 7 is the successor to Microsoft Windows Vista and Microsoft Windows XP which continue to be supported by Dolphin screen readers and screen magnifiers. All versions of Windows have a limited life cycle published by Microsoft. This means that at some point in the future official support from Microsoft for earlier versions of Windows will become limited and eventually withdrawn. Dolphin will continue to provide product support for users of earlier versions of Dolphin software. However, Dolphin's future development will continue to focus on improving support for new Windows and application versions.
64-bit Citrix Support
Version 11.50 officially introduces support for running Supernova, Hal, Lunar and LunarPlus in 64-bit Citrix environments.
If you wish to deploy Dolphin access software in a Citrix environment, please contact your Dolphin dealer or Dolphin direct to discuss your specific requirements.
Speaking Windows Error Dialog Improvements
Version 11.50 magnifies, speaks and Brailles most types of Windows error dialogs. In the event that a third-party application stops working, version11.50 users can interact with the error dialog and choose what action to take.
---
Tip: To read the entire window using the default desktop hotkey set press NUMPAD 9.
---
Tip: You can copy the content of an error message to the Windows clipboard:
Switch on the Dolphin Cursor with NUMPAD MINUS.
Select all the text in the current area with CONTROL + A.
Copy to the Windows Clipboard with CONTROL + C.
Getting Help
CAPS LOCK + F1 Help

You can get help from Dolphin from within your application simply by pressing CAPS LOCK + F1. This hotkey pops up a menu providing quick and easy access to the various help resources available. You can use the mouse or arrow keys to select an item and LEFT CLICK or ENTER to open it.
You can easily switch between the help topic and your application with ALT + TAB. The help topic can be closed with ALT + F4.
The CAPS LOCK + F1 Help menu in version 11.50 contains the following items:
Application Help e.g. "Windows Explorer Help". Provides help for Dolphin users with their current Windows application. Many popular applications including Microsoft Office now have Dolphin help content available. More applications are regularly being added and will be delivered via the internet updater.
Dolphin Hotkeys. You can explore a convenient list of the most popular Dolphin hotkeys from this submenu.
Find Help on the Dolphin website. Launches the Support section of www.YourDolphin.com in your default web browser.
Windows Basics. Introduces Windows concepts for users that are new to the Windows environment.
Manual. Opens the complete user guide to your Dolphin SuperNova, Hal, Lunar or LunarPlus software.
My Notes. Launches a Notepad where you can easily make and read your own notes for the current application.
Task-based Application Specific Help
Version 11.50 includes clear task-based help content describing how to complete common activities in popular applications while using your Dolphin screen reader or screen magnifier. Applications include:
Microsoft Internet Explorer versions 7 and 8.
Microsoft Word 2007Microsoft Outlook 2007
Microsoft Excel 2007
Microsoft PowerPoint 2007
Microsoft Word 2003/XP (Currently only available in English)
Microsoft Outlook 2003/XP (Currently only available in English)
Microsoft Excel 2003/XP (Currently only available in English)
Visual
Magnify OpenGL & DirectDraw/Direct 3D Applications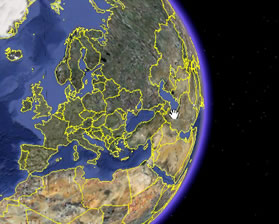 A variety of applications that call up the extended functions of the computer's video card can now be successfully magnified by SuperNova, Lunar and LunarPlus.
Traditionally, applications such as Google Earth and Windows Photo Gallery have bypassed the standard video chain, resulting in screen magnifiers being unable to intercept the display.
Version 11.50 of SuperNova, Lunar and LunarPlus can now magnify OpenGL and DirectDraw/Direct 3D applications such as Windows games, videos and CAD software.
This support is already on so you don't need to alter any settings to benefit from it.
(Currently only compatible with machines running Windows Vista and Windows 7 operating systems).
New Mouse Pointer Schemes
New Mouse Pointer Schemes to enable users to quickly and easily choose an appropriate set of mouse pointers and cursors has been added. For example, users who prefer to use a Large Red pointer can choose this easily, and all other associated pointers will automatically change to a large red style, such as the 'Working in Background' and 'Busy' pointers. Pre-defined schemes include: Large Yellow, Large White, Large Red, or you can create your own scheme, choosing from a large number of colours and sizes.
---
Tip: You can change your mouse pointers in the "Mouse Pointers" dialog located in the "Visual" menu of the Control Panel.
---
Control Panel Improvements
Additional usability improvements continue the work done in version 11.01 to ensure users can quickly and intuitively find the feature or setting they wish to use.
Greyscale Colour Scheme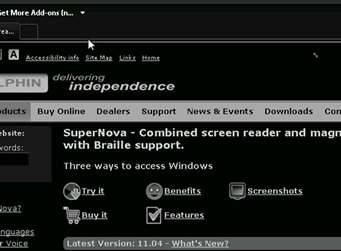 A new colour scheme has been added to the already extensive list of pre-defined schemes. This will remove all colour from the display, giving the impression of a "black and white" television.
Users can continue to create their own custom colour schemes using the powerful colour replacement, inverse or brightness and contrast tools.
This option can be found in the "Colour Schemes" item of the "Visual" menu.
Hotkeys
New Dolphin Laptop Hotkey Set
In addition to the existing hotkey sets which will continue to be provided and supported, version 11.50 includes a new Dolphin Laptop Universal set. The Benefits of the Universal set include:
Suitable for both laptop and desktop keyboards.
Minimises conflicts with hotkeys used by Windows and Windows applications.
Adopts many industry conventions, so will feel instantly familiar to users who have experience of 'other' non-Dolphin screen reading and screen magnification software.
Becoming familiar with the Laptop Universal set:
CAPS LOCK + the Navigation keys including: cursors, HOME/END, PAGEUP/PAGEDOWN perform basic screen reader speak TEXT at the cursor functions, including: current letter, Word, Line, document, to and from the cursor, Where Am I and Status.
SHIFT + CAPS LOCK + Navigation keys trigger more screen reader speak text commands, such as: selected text, table columns and rows, to and from cells, headings.
CAPS LOCK + Number row toggles general screen reader speak modes and settings, such as: key describe mode, keyboard echo, Allow hotkeys through.
CAPS LOCK + Function keys performs screen reader specific functions, such as: Help, read time and battery.
RIGHT CONTROL + Arrow keys pan the magnification aperture around the screen.
LEFT ALT + LEFT SHIFT + Alphabetic keys change magnification and visual settings including: modify magnification area, Colour Scheme On/Off, Doc Reader, Modify Hooked Areas, Magnifier type, Focus Highlights and Line View.
---
Tip: You can discover the purpose of each hotkey before performing its function using Dolphin's 'Key Describe mode'. In the Universal Set, Key Describe mode can be switched on and off with CAPS LOCK + 1.
---
Tip: You can use a key other than CAPS LOCK as the custom screen reader modifier (or Dolphin Key). Change this from the Control Panel > General > Keyboard and Hotkeys... > Hotkeys > Dolphin Custom Modifier.
---
Updated Competitor Hotkey Emulation Sets
Making the switch to Dolphin software can be made easier by using a familiar hotkey set. Dolphin's competitor emulation hotkey sets have been significantly updated and include feedback received from users.
JFW Desktop and Laptop sets have been updated.
New Window-Eyes Desktop and Laptop sets have been added.
ZoomText hotkeys have also been added.
Swiss-German Keyboard Language Layout
The list of more than 50 supported keyboard languages found in General > Keyboard and Hotkeys > Language has been extended to include Swiss-German.
New Hotkey Quick Reference Guide
Version 11.50 is supplied with an updated Hotkey Reference Guide. This document lists the most popular desktop and laptop hotkey commands for getting started with your Dolphin software.
General Product Improvements
Faster Load Times
Better management of installed speech synthesisers means that the Dolphin product will now take considerably less time to load. For users who primarily use only one Text-to-Speech synthesiser, this will now be the only synthesiser to load when the product launches, dramatically reducing startup times on most systems. For users who need to access multiple speech devices, these can still be loaded when your software starts. By default, only the last used synthesiser will be loaded. If you would like all synthesisers to load when the Dolphin product starts, you can enable this through the "General" menu > Startup Preferences. This new behaviour is optimised for Windows Vista and Windows 7, but users of Windows XP will also notice an improvement.
Pen Updater
Users of the Dolphin Pen II can now apply Dolphin software updates to take advantage of the latest advances in the Dolphin software. Regular free updates bring a variety of improvements and fixes to the Dolphin product and users of the latest Dolphin Pen technology, which implements innovative new USB hardware technology to protect your USB drive against harmful Malware, can now benefit from these free product updates.
Scripting
Dolphin's powerful scripting solution, based on the popular Lua scripting language, continues to mature in version 11.50.
New functions, including new area tree and system functions.
New parameters, to reflect improvements in text announcement e.g. for spelling speed.
Updated functions, some of the Area functions return additional information.
Updated documentation, allowing scripters to discover the purpose, parameters and possibilities of the new functions.