SuperNova Enterprise 20.04
Released:
Languages supported: Arabic, Arabic (France), Belgian Dutch, Belgian French, Chinese (English), Czech, Danish, Dutch, English (Australia), English (South African), English (United Kingdom), English (United States), Finnish, French, French (Canada), German, Greek (English), Icelandic, Italian, Norwegian, Polish, Portuguese, Portuguese (Brazilian), Russian, Slovak, Spanish, Swedish, Swedish (Arabic), Swiss German, Turkish, Welsh
New in SuperNova 20.04

SuperNova 20.04 introduces support for Windows 11 as well as a host of additional fixes and improvements.
SuperNova and Windows 11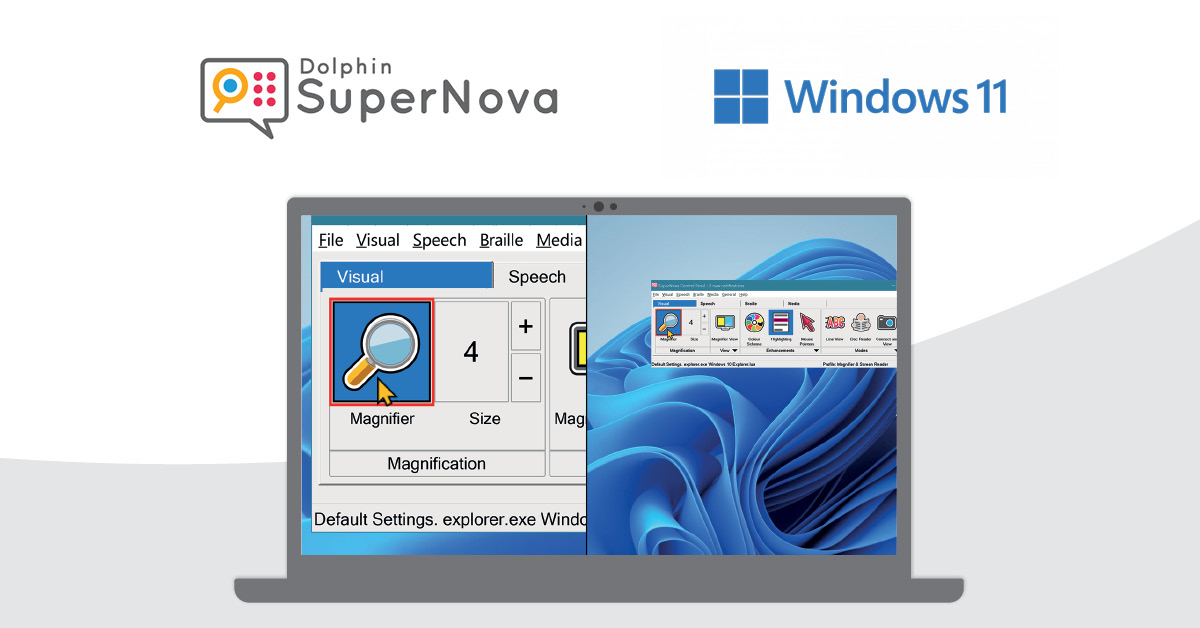 With SuperNova 20.04, people who are blind or partially sighted can benefit from all the exciting new features in Windows 11.
SuperNova 20.04 introduces magnification, speech and braille access for Windows 11 and provides access to:
The Windows 11 logon screen.

The new Windows Start 11 menu.

The Windows 11 desktop, file explorer and settings.

The revamped Microsoft Store now available in Windows 11.

Your favourite applications in Windows 11, including Microsoft Office, Google Chrome, Microsoft Teams and much more.

Released in October 2021, Windows 11 introduces innovations to enhance user productivity, along with a fresh experience designed to aid office and home working. It promises to be a reliable, secure and high-performance operating system. Find out more about what's new in Windows 11 by visiting the Microsoft website.
The update to 20.04 is free for all SuperNova 20 customers. Customers who update to SuperNova 20.04 and have device which is compatible with Windows 11 will become eligible for the Windows 11 rollout.
Future versions of SuperNova will continue to offer additional enhancements for customers using Windows 11. For a current list of known issues with SuperNova and Windows 11, please visit the Dolphin Knowledgebase.
Additional fixes and improvements
FIX: Adobe Reader 10. Items in the Adobe Reader user interface, including particular settings and checkboxes, are now announced as expected.
FIX: Adobe Reader 10. A fix has been applied to ensure the correct Map file is used when Adobe Reader 10 is opened.
NEW: Braille displays. The Orbit Reader 40 and Vario 4 Braille displays are now supported by SuperNova.
FIX: EasyReader. SuperNova's speech now announces the EasyReader headings list in full rather than only announcing the part of the heading which is visible.
FIX: Enterprise. It is now possible to select the Windows taskbar whilst using SuperNova is a remote desktop (RDP) environment.
FIX: Google Chrome. The contents of the bookmark window in Google Chrome are now announced by the speech as expected.
FIX: Google Chrome. The speech now announces when a download has started and complete in Google Chrome. The shortcut key CAPS LOCK + J can also be used to announce the status of the download bar whist a download is in progress.
FIX: Installer. Users are now always asked to restart their machine after installing SuperNova. This prevents errors occurring when loading SuperNova for the first time.
FIX: Vocaliser Expressive. Words with a non-breaking space between them are now announced correctly by Vocaliser voices in SuperNova.
FIX: Windows logon. Fix to ensure speech is always available for users to sign in to their machine at the Windows logon screen.
Important information for people using Windows 7
Following the release of SuperNova 20, SuperNova no longer supports the Windows 7 operating system.
SuperNova may continue to run and function on Windows 7. However, as the product is no longer tested on Windows 7, we regret the Dolphin team is not able to fix issues that occur on devices running this operating system.
Important information for people using Windows 7 and Windows 8.1
The next major version upgrade to SuperNova is expected to be available early in 2022. This upgrade to SuperNova will not install or run on devices running Windows 7 or Windows 8.1.
Other v20 releases: