SuperNova at School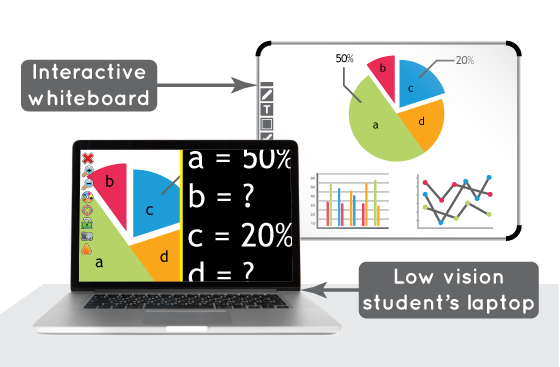 Students who are blind or partially sighted gain complete access to learning materials with SuperNova Magnifier & Screen Reader. Course notes, essays and revision are clearly magnified, spoken with high quality voices and accurately translated to refreshable Braille.
With SuperNova's Connect & View feature students can connect to and magnify the teacher's interactive whiteboard on their own tablet or laptop. The student can then customise the view to meet their own magnification and colour scheme needs. The split screen feature enables them to make notes at the same time as monitoring what's happening on the whiteboard.
Hardcopy and electronic versions of lecture slides, hand-outs and feedback can be read by students with vision impairments using their ideal combination of magnification, speech and Braille.
Assessors, special educational needs coordinators and tutors can be confident that however much a student's eyesight changes, SuperNova's support is available throughout education and beyond.
---
Olivia, Partially Sighted Student Primary School Student
"I've been using SuperNova for about a year now. When I didn't have it I used to get lots of headaches... I like the red mouse and I like the magnification"
---
John Rous Milligan, Norfolk Virtual Schools, Sensory Support
"It works best with the students. The feedback from students, families and their teachers that work with them is that they like it. That is works and it's robust. We have about 50 students using it across the county at the moment."