Mijn boeken overzicht
Hieronder staat een afbeelding van het scherm 'Mijn Boeken' met een omschrijving van de beschikbare knoppen. (Opmerking – de afbeelding hieronder geeft EasyReader op een iOS apparaat weer. Er zijn kleine verschillen als u EasyReader op een Android apparaat gebruikt).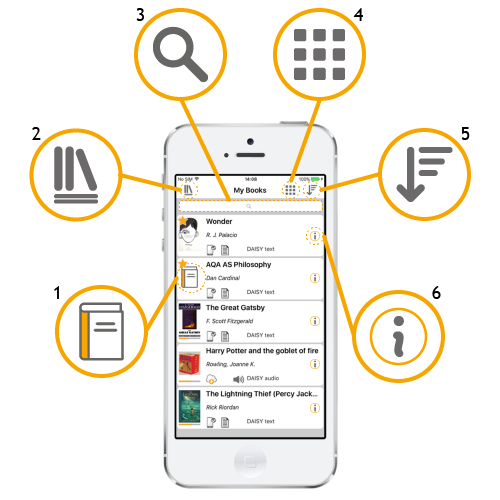 1. Boekomslag – aan de linker kant van ieder boek
Tik hierop om het boek te openen.
2. Zijmenu – In de linkerbovenhoek van het scherm
Een nieuw boek of krant zoeken in de bibliotheek of het klembord openen om een tekst te lezen.
3. Zoeken – boven de lijst met boeken
Zoeken naar een titel die u heeft gedownload in de Mijn Boeken lijst.
4. Lijst/Tegel venster – rechts van het midden bovenin het scherm
Keuze van het weergeven van Mijn Boeken als lijst of in de vorm van tegels. Opmerking – als u EasyReader gebruikt op een Android apparaat, wordt deze knop vervangen door een 'import' knop

die wordt gebruikt om boeken te importeren vanaf de opslag op uw apparaat.
5. Sorteren – rechtsboven in het scherm
Sorteer uw Mijn Boeken lijst op titel, auteur of meest recent gelezen.
6. Boekinformatie – aan de rechter kant van ieder boek
Hier vindt u informatie over het boek, zoals de titel, auteur, het formaat, grootte en een beknopte weergave indien aanwezig.
---