This event has past! Check out our other events.
ATIA 2020
Starts: Wednesday 29 January 2020 at 00:00
Ends: Saturday 1 February 2020 at 00:00
Venue:
Caribe Royale All-Suites Hotel and Conference Center
8101 World Center Drive
Orlando
Florida
32821
United States
Description

Come and visit us at the ATIA 2020 Conference.
We will be at booth #612/613 and we will also be presenting 2 educational sessions during the event.
Sessions
[VHT-29] SuperNova - 3 Solutions in 1 for your Students with Visual Impairments
Friday, January 31, 2020 --- 11:45 AM to 12:05 PM
Providing all of the necessary accommodations a student with a visual impairment needs to have equitable access to information and learning can cost thousands, plus they have to learn a bunch of different tech. That's not the case when you pair SuperNova with a touchscreen tablet, everything's in there! SuperNova is a Digital Video Magnifier and Conversion Tool. SuperNova and a tablet becomes a full productivity tool. SuperNova is an Accessible Book Reader connected to Bookshare. Finally, the technology is utterly stable and only requires about 4GB of RAM to run seamlessly. Schools shouldn't have to purchase gaming-speed computers to run accommodations for students with a visual impairment, so we've made sure you don't! If you're searching for a reasonably priced accommodation that fits in a student's backpack and eliminates thousands of dollars of additional tech, come and check out SuperNova!
[ATPAP-20] Convert, Acquire, Share & Read - Building an AIM Chain that Flows
Friday, January 31, 2020 --- 4:30 PM to 5:30 PM
Constructing the most efficient system(s) for delivering accessible instructional materials to students with print disabilities is an ongoing, yet ever-improving undertaking. How can we convert existing internal materials that are inaccessible? How can we get teachers and those creating curriculum to save in accessible file formats? How do we distribute electronic textbooks and required reading materials in a timely, efficient manner? What tools are we going to provide students to access the materials? In this session, you'll be introduced to the most seamless solutions for all of these pain points using Dolphin and Bookshare technologies. The best part, you'll leave with a FREE solution most of your students can use for reading digital texts!
---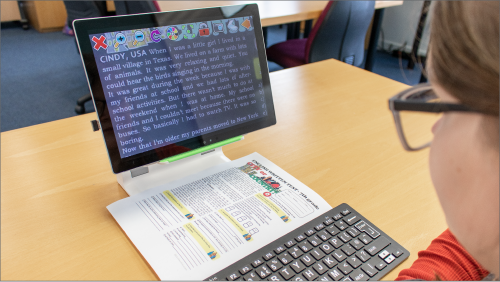 Crystal clear magnification, speech or braille. With SuperNova Magnifier & Screen Reader, sight loss is no barrier to an education.
---