VIEW 2020 Conference - 3 Essential Tools for QTVIs
Published: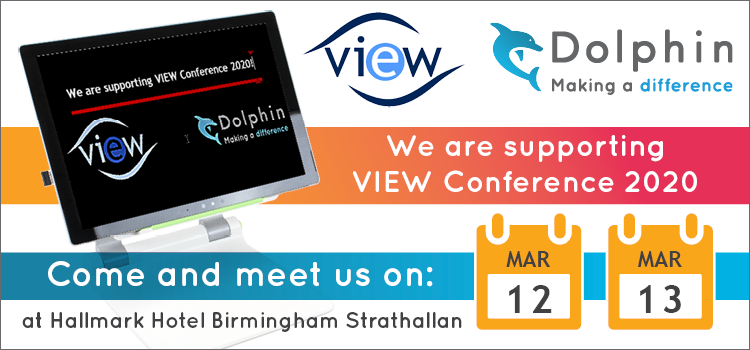 Dolphin's UK Sales Manager Dave Salisbury is attending the VIEW 2020 conference this week in Birmingham. As the UK's primary conference for anyone working with children and young people with vision impairment, it seemed the perfect time to catch up with Dave and his 3 essential Dolphin tools for QTVIs.
---
Dave Salisbury, UK Sales Manager, Dolphin Computer Access ...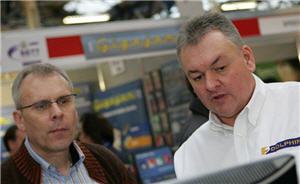 It's been back to school for me since September 2019. Never have the Dolphin team spent so much time in schools and colleges. The reason? Well there's 3 and the good news is that 2 are free: Connect & Learn, the free Whiteboard Wizard and the free EasyReader apps. You've probably heard something about some if not all? Possibly attended a webinar? Well here's a quick summary for those looking to get up to speed and find out why so many QTVIs are adopting Dolphin's education products as their preferred solutions.
Connect & Learn
A single portable and light weight device, Connect & Learn is the newest way for low vision learners to access the curriculum. And it's going down a storm with students and their QTVIs. Unlike many specialist VI devices, Connect & Learn centres on a popular mainstream Windows 10 tablet – Microsoft's Surface Pro. SuperNova Magnifier comes included as standard, along with a large print wireless keyboard, a folding stand and a backpack.
Place the tablet on the stand and Connect & Learn acts as a digital magnifier. Place a document under the built in camera and students can: magnify the document, zoom in using their fingers on the touchscreen, add a colour scheme, rotate or lock the image. They can even save the image to add to their work or to explore again at home. Choose the Connect & Learn package with SuperNova's speech included and your student can tap the screen and hear the words on the document read aloud. And the scan and read feature is impressively accurate. Send the text to a Word document, move fingers to the keyboard and Connect & Learn becomes a Windows 10 laptop complete with SuperNova's full set of magnification and colour enhancing tools.
With Connect & Learn low vision students can also wirelessly connect to the interactive whiteboard and 'see' and magnify the whiteboard. Again adjust colours, zoom in, take photos - Connect & Learn doesn't need an extra & expensive camera that points at the board so your partially sighted student isn't forced to sit at the front of the class. And this is where the Whiteboard wizard comes in.
Whiteboard Wizard – it's free!
We know IT skills aren't always readily available in school, so we've made it super simple for teachers to share their live whiteboard presentation with the low vision pupils in their class. The whiteboard wizard is a free download that once installed to a teacher's laptop, the teacher can click an icon on their desktop and the low vision students using Connect & Learn (or SuperNova) can 'see' and magnify the teachers' presentations on their screen. No cameras, no cables, no sitting at the front of class, no chance of the teacher obscuring the view. Withdrawing a student's access to see the screen is just as simple; so teachers can be confident that students don't see anything that they shouldn't! You can even add a password. Got questions? Panic not. We've demystified the Whiteboard wizard and Connect & Learn in our series of FAQs.
EasyReader for iOS and Android – they're free too!
And finally, the free EasyReader apps for iOS and Android have quickly become students' favourite way to download and read textbooks from the RNIB Bookshare Education Collection. And the RNIB themselves recommend EasyReader as their preferred method to browse, download and read their 450,000+ textbooks. EasyReader is also fully compatible with both VoiceOver and Talkback, so you can be confident that everything is accessible.
If you're attending the VIEW Conference 2020 this week, do drop by the Dolphin stand. Hope to see you in Birmingham.