Dolphin hires new intern from New College Worcester
Published:
As a Disability Confident employer, Dolphin recognises the valuable contribution disabled people make to our workforce. We would like to share our success and encourage other businesses to hire people with visual impairments or other disabilities.

Harley Richardson, a student at New College Worcester (NCW), has started a supported internship with Dolphin Computer Access as a software tester.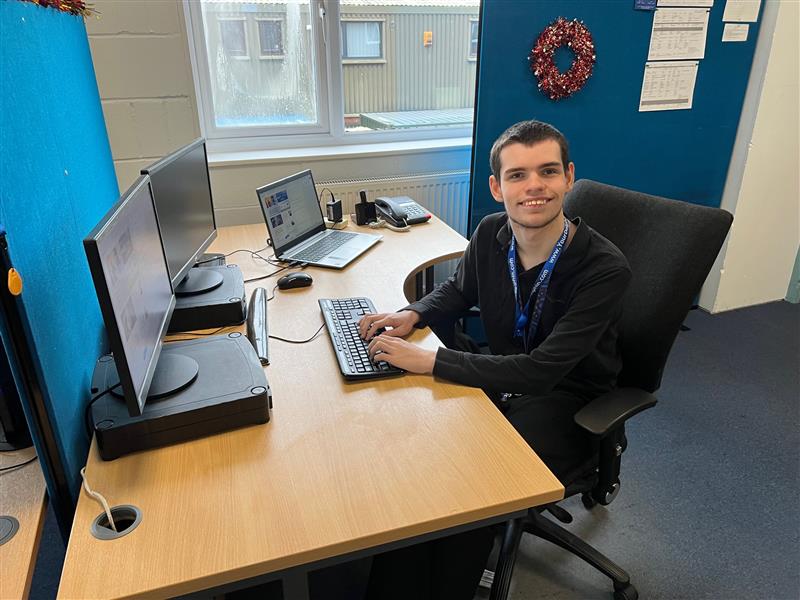 Supported internships enable students with disabilities to gain valuable work experience and it helps with the transition from education to the workplace.
Rachel Willetts, HR Manager at Dolphin says The fact that only 25% of people who are registered as blind or partially sighted are in work is astonishing to us, especially considering the technology available.
During his initial settling-in period - Harley, who is blind and uses a cane - was accompanied by Carol, his Job Coach from NCW. He quickly gained confidence navigating the building independently, learning business computer systems and getting to know the Dolphin team. Harley now works as an intern two days a week at Dolphin.
Rachel continues Dolphin would like more organisations to recognise that people with visual impairments and other disabilities are able to work - and work well! We really recommend the Supported Internship at RCW to other local employers.
Harley confirms that the recruitment process was easy. I came in to visit Rachel at Dolphin to chat about the departments, my interests and how they transfer to the workplace. We also talked about working hours and the adaptations I require.
For his first few weeks, Harley was accompanied by Carol while he settled in. Now, Harley is confident to get a taxi into work, to find his way in and around the office. He now comes to work unaccompanied and navigates with his cane. He's settled into the team well and particularly enjoys the workplace banter on the testing and support teams.

Steve Bennett, Managing Director at Dolphin says:
We're delighted that Harley has joined the team. He's already proven himself to be a talented software tester, and we look forward to helping him develop skills that further his career.
Dolphin works with local educators, including New College Worcester, to provide workplace opportunities for students and graduates. These include work experience days, apprenticeships and supported internships.
If you are considering taking on an apprentice or intern, there is lots of information and support available, not least from the careers team at NCW. Vicky Johnson, Careers Advisor at NCW emphasises that both students and employers get so much from supported internships, and they also help dispel the myths surrounding employing individuals with sight loss.
New College Worcester is a national residential school and college for young people aged 11 to 19 who are blind or vision impaired. Visit www.ncw.co.uk for information on how you can set up a supported internship with one of their students.
---
Considerations around hiring a person with a visual impairment or other disability
There are more than 2 million people in the UK living with sight loss. If you make your business accessible to people with visual impairments, how might it impact your business growth?

Only 1 in 4 people of working age and registered as blind or partially sighted are in employment. This is a vastly untapped human resource!

As a Disability Confident employer, Dolphin encourages you to consider the value disabled people can add to your business.
How might hiring a disabled person empower your team, enrich your brand or give you an edge over your competitors?

Most young people with visual impairments aren't completely blind. Some may have guide dogs or use a cane, but not everyone does.
Some young people might need additional equipment such as screen reading software.
This is often subsidised with Access to Work funding or a Disabled Students Allowance.
---
RNIB stats about employment and people with vision impairments
Only 1 in 4 registered blind and partially sighted people are in employment. This hasn't significantly changed since similar research was carried out in 1991.
(ref Slade, Edwards and Crawley (2020) Employment for blind and partially sighted people in 2019. RNIB).

There is a significant employment gap between blind and partially sighted people and the general population. The employment rate is:
76% in the general population
51% amongst the disabled population, excluding sight loss
27% for people registered blind and partially sighted
(ref Slade (2019) Labour Force Survey 2018: comparison of people with sight loss to the rest of the population).

The most common barriers given by blind and partially sighted people to gaining work are related to employer attitudes and processes.
They cite inaccessible recruitment processes (36%); poor employer attitudes (35%) and; poor employer support (32%)
Source: RNIB