Buying for a friend or family member?
---
Experts in Visual Impairment
---
All of our clients are visually impaired. In fact so are lots of our team. So our staff won't ask your loved one to read the small serial number or the print manual. When we need more support information than their sight allows, we can, with consent, remote onto their computer to resolve any issues. All of our resources are available in alternative formats including large print, Braille and audio.
---
It Really is Simple, Honest!
---
Technology can be daunting, especially with a visual impairment, but Guide is no ordinary computer! Guide hides all the usual Windows and buttons, presenting every task as a simple numbered list and asking basic questions each step of the way. Guide can largely be operated with just 4 keys. For those customers who want to improve their keyboard skills, Guide's typing tutor can work wonders. Failing that, Guide allows you to record voice memos as MP3 to send by email.
---
We're here to Help when You're Not
---
When you're new to computers, there's bound to be lots of questions and reassurance required. So if you're not available, we probably are. If your client or loved one has a question about using Guide or just needs a little extra support, our dedicated product support team are available by phone or email. Don't forget we also offer telephone training and training in the home.
---
Set-up, Configured & Ready to Go!
---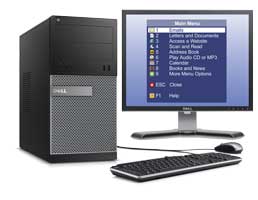 Choose to buy Guide as a complete package, and we'll take all the strain out of setting up & configuring it for your friend. Whether they opt for a lightweight laptop or desktop PC with extra-large screen, we'll optimise for sight loss and for Guide. Plus we can add antivirus software, configure their email or even set up a new email account. We add printers, scanner drivers, talking book access & much more. We then ship the computer, where it only needs unboxing and if you don't fancy that, home setup with some training is also available.
To discuss your friend's requirements in more detail, please contact the Sales Department.