SuperNova Magnifier & Speech 12.04
Released:
The version 12.04 update for SuperNova includes new features for managing settings and new support for applications, as well as some crucial bug and crash fixes. Dolphin's Product Support Departments highly recommend this free update that is immediately available for all version SuperNova 12 users.
Update and experience:
New support for Internet Explorer 9 - magnification, speech & Braille!
New 'Save & Restore Settings' features
New Watchdog error reporting functionality
Numerous crash fixes
Bug fixes for Microsoft Office 2007 & 2010 users.
NEW: Internet Explorer 9 Support - Magnification, Speech & Braille
Following several months of close cooperation with Microsoft, Dolphin are delighted to introduce SuperNova's full magnification, speech and Braille support for Microsoft's newest browser, Internet Explorer 9.
Internet Explorer 9 was one of the first applications to include a new hardware accelerated rendering technology called Direct2D. This new faster approach to drawing web pages "broke" all screen magnification solutions available on the market including SuperNova's True Fonts.
SuperNova v12.04 is the first magnifier to introduce 'high definition' font smoothing with True Fonts on Internet Explorer 9.
Direct2D has been introduced in other applications including Windows Live 2011 and currently True Fonts do not support these applications. However Dolphin's development team are actively working on supporting these applications and this support should be available soon. Sign up to receive Dolphin's newsletter to receive notification of further support for applications using Direct2D.
NEW: 'Save & Restore Settings' features
Saving Settings Automatically or Manually
You can now make changes to your SuperNova magnification, speech and Braille settings confident that settings will be saved automatically and used the next time you run SuperNova.
Sometimes, you may make settings changes which you do not want to keep. With v12.04 you can prevent SuperNova from saving your settings automatically by unchecking General>Startup Preferences>Always Save User Settings.
If you would like SuperNova to ask you whether settings should be saved each time you quit, check the "Ask User" checkbox which becomes available when "Always Save User Settings" is unchecked.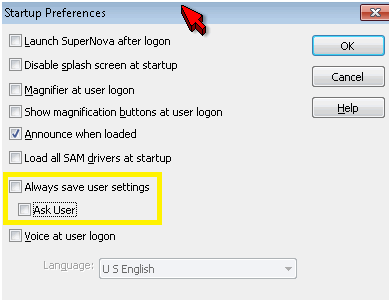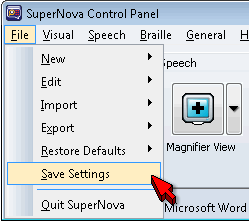 You can manually save settings any time by choosing "Save Settings" from the File Menu.
Importing and Exporting User Settings
If you need to maintain separate preferences for multiple users, Dolphin recommend ideally installing SuperNova under separate user profiles in Windows. If you are using a single user version, or do not wish to maintain separate Windows User Accounts you can use Import and Export to save multiple sets of SuperNova preferences.
You can choose File>Export>User Settings which will prompt you for a file name where your preferences will be stored. The Dolphin Settings (*.xcp) file will contain general user preferences for SuperNova such as: magnification level, speech speed and Braille table. To restore these preferences at a later time, choose File>Import>User Settings.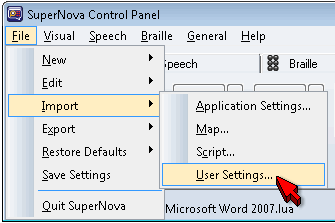 Please note the following known limitation; the Dolphin Settings (*.xcp) file currently does not store Map or Script settings changes, nor will it store Hotkey changes, Graphic labels, My Notes or System Language.
NEW: Error Reporting 'Watchdog'
SuperNova's Error Reporting functionality now includes a 'watchdog'. In the unlikely event of SuperNova freezing or hanging, the watchdog catches the crucial information and creates a crash dump report. If you have given permission via the Error Reporting dialogue, the crash dump will be anonymously shared with Dolphin. You can alter your Error Reporting permissions at any time, by going to the "Customer Feedback" option in SuperNova's "Help" menu.
Crash Fixes
FIX: A crash that only occurred in some parts of the YouTube website has been fixed. #19848
FIX: A Blue Screen that occurred when connecting to Citrix has been fixed.
FIX: A crash fix in Snova.exe at Exception Address: 0x0059398c has been resolved. #19890
FIX: A crash when using Firefox 3.6.17 has been fixed. #19786, #19886
FIX: A crash has been fixed that was caused by corrupted font files. #20025
FIX: A crash in Snova.exe at Exception Address: 0x0055b969 has been fixed. #20031
FIX: A crash in dol_sit.dll at Exception Address: 0x0152cd80 has been fixed. #20026
FIX: A crash in Snova.exe at Exception Address: 0x0058ec95 that occurred when using the Chinese Input Method Editor has been resolved. #20003
FIX: A crash in Snova.exe at Exception Address: 0x005cfbb3 has been fixed. #19982
FIX: A crash fix for multiple crashes relating to ntdll.dll has been resolved. #19860, #19870, #19871, #19872
FIX: A crash that occurred when starting Microsoft Word 2010 in Snova.exe at Exception Address: 0x0047689a. #19938
FIX: A Blue screen crash (BSOD) that referenced the dolvideo.dll has been fixed. #20361
Magnification
FIX: A small memory leak has been fixed that only occurred if the video mode was changed i.e. screen resolution changes, turning monitors on or off etc.
Install
FIX: SuperNova's installer has been improved to prevent it going silent after closing down a running version of SuperNova. #20106.
FIX: Problems in the Windows logon screen have been resolved, as 2 instances of the doleoaclient.exe are no longer being started.
Outlook 2010
FIX: Where the spell checker dialogue in Outlook 2010 offered no suggestions, spurious information was being read. This is now correctly read as "No Suggestions". #19813.
Office 2007
FIX: SuperNova customers running Office 2007 on Windows XP may have noticed a problem where cursoring left or right in a spelling error would read the whole spelling error, rather than the individual letters. This problem has now been fixed in this version 12.04 update. #18786
FIX: When using Word 2007 and saving a file as text, if any non Western characters were included a "File Conversion" dialogue would correctly appear. This dialogue wasn't reading correctly in previous versions of SuperNova, but is now resolved in v12.04. #19101
Localization
NEW: Portuguese prompts have now been included.
Known issues
Please note; Internet Explorer 9 may freeze when scrolling pages with the mouse wheel if the SuperNova, Hal, Lunar or LunarPlus are installed on the same PC. Please read our Knowledge Base article found in the Support pages of the Dolphin website for instructions on how to resolve this.
We are also aware that the edges of the mouse pointers may become jagged on some systems. This issue is expected to be resolved in a future update.