From within your Microsoft Word document
Please note: Converting from within Microsoft Word is not supported in Microsoft Word 2003 or 2007.
To convert a document from within Microsoft Word
Open the document you would like to convert in Microsoft Word. Make sure you have saved the document before converting it.

Select the 'Convert to' dropdown from the Microsoft Word ribbon. The drop down is located in the 'Home' tab at the far right of the ribbon:

Use the drop down to choose the format you would like to convert your document into.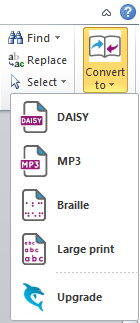 Dolphin Converter

will now open and provide options for you to customise your converted document:

Settings for your output: Choose the settings you would like to apply to your converted document. The settings will be different depending on the format you have chosen.

Output folder: Choose where you would like your converted document to be saved to using the 'Browse' button.
Select 'Start'.

Dolphin Converter

will now convert your document based on the settings you have chosen. The progress of the conversion will be displayed on the screen, along with an 'Abort' button which will cancel the conversion if selected.

Once the conversion is complete,

Dolphin Converter

will open a pop-up box displaying information about your converted document, along with two options:

Choose 'Show Location' to open the location of the converted document in File Explorer.

Choose 'Close' to close

Dolphin Converter

and return to your document.
---