Guide User running a Windows 7 computer - important news
Published: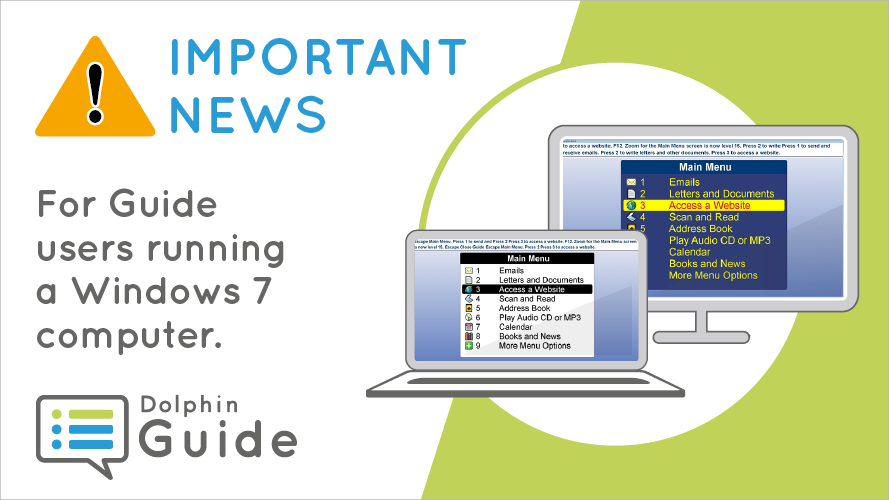 In March 2019 Microsoft, the makers of Windows, announced the End of Life date for Windows 7. Without the jargon - from 14th January 2020 Microsoft will stop sharing important security updates for Windows 7.
For the 39% of computer users still running Windows 7, this means their computer will become more vulnerable to malicious attacks. Some industry experts predict that hackers will actively target Windows 7 computers as Microsoft have formally given their notice on making future protections for these users.
So what should our Guide customers do?
Firstly establish if your desktop computer or laptop is running Windows 7. There's a simple but handy website that can help you with this. If you are using Windows 7, then you need to decide if you are happy to continue using Windows 7 after the 14th January.
It is also worth remembering that, much like Microsoft, Dolphin are no longer actively developing Guide. Guide's core technology was first developed 10 years ago, so all our energy and development resources are now being ploughed into GuideConnect, Guide's new big brother. Like Guide, GuideConnect has the same always easy-to-use philosophy and does many of the things Guide did. But unlike Guide, GuideConnect is built on 21st century technology and it's both smarter and simpler to use.
Is GuideConnect for me?
GuideConnect has lots of new features that Guide customers asked us for, including:
Brand new web support - bank online, shop or get social with all the popular websites
Voice input via a remote control – dictate your email, documents or a quick web search
Local, regional and national newspapers delivered daily (subscribe to the RNIB's Newsagent service)
Browse & read audio books (just sign up for the RNIB's free audio book service)
Much like Guide, GuideConnect has simple talking menus that prevent you getting lost, or overwhelmed. The text is always high contrast and large print and the human sounding voices guide you every step of the way. Importantly GuideConnect also includes telephone and email support direct from our team in the UK.
Importantly GuideConnect also includes your favourite Guide features, but using updated technology and with improved usability: Write letters, print envelopes, send and receive email, scan and read your post, listen to the radio and manage your diary.
Read our 10 reasons for Guide users to upgrade to GuideConnect
Find out more about GuideConnect
Considering a new Windows 10 computer?
Since Microsoft announced the end of life date, thousands of people have already made the migration to Windows 10. For a small number of people, this has meant keeping the same computer and upgrading from Windows 7 to Windows 10. For the majority, their laptop or desktop computer is too old to make the switch, and they've invested in a new Windows 10 computer that will receive the important security updates from Microsoft.
If a new Windows 10 computer seems timely, we understand you'll want to explore your options. If you feel confident browsing and choosing new Windows 10 hardware – great! But for those that would prefer some assistance choosing, setting up & configuring a new laptop or desktop – we're happy to help.
Making the switch to GuideConnect also means you can choose a Windows 10 device that best suits your lifestyle. Choose
Upgrade from Guide to GuideConnect with a New Windows 10 Device
Choose a new GuideConnect package (powered by Windows 10) from Dolphin and we'll:
Install and setup GuideConnect
Configure & optimise all Window 10 settings and security updates
Setup your email account and connect the new printer
Include 2 hours of telephone training
Answer your support questions by phone and email
| Trade in your Guide Licence | Trade-in Guide v8 | Trade-in Guide v9 | |
| --- | --- | --- | --- |
| Tablet with GuideConnect | £899 | £777 | |
| TV Box & Remote Control with GuideConnect | £609 | £487 | |
| 15" Laptop with GuideConnect | £890 | £768 | |
| Desktop with 22" screen with GuideConnect | £994 | £872 | |
And if you'd like us to move your data and documents over from your old computer, we can do that for you too for a small charge.
Browse our hardware packages in more detail
To explore GuideConnect in more detail or to make the upgrade to Windows 10 call Tom or Gio on 01905 754 577 or email [email protected].