Simple Talking Technology for Sight Loss
Effortless email, entertainment and internet
Losing your sight is life changing. Technology could help you gain greater independence, but what if you don't feel confident?
GuideConnect is a talking digital assistant that brings you closer to family and friends. It helps you manage your everyday life and have fun. Simple internet access makes it easy to find information, be entertained and stay up-to-date with what's happening in the world. GuideConnect is thoughtfully designed by and for people with sight loss, enabling you to enlarge the text or have it read to you. There are straightforward menus and lots of help. GuideConnect will talk you through every step of the way - you won't believe how easy it is to use!
Try GuideConnect free for 30-days or buy GuideConnect as a download, on a tablet, laptop, desktop or for your TV.
Summary
Simple step-by-step menus help you complete every task
High contrast large print text, as BIG as your eyes need
Human sounding voices guide you every step of the way
Touch, remote, keyboard or mouse access
Voice input - dictate your emails, documents or search the web
The simplest way to write, send and receive email
Compose letters and print envelopes
Effortlessly browse the web
Scan and read your print mail
Listen to audio books or today's newspapers
Maintain a calendar and receive timely reminders
Tune in to your favourite radio stations
12 months of GuideConnect Annual Support
Got questions? Read the GuideConnect FAQs
Thoughtfully designed by and for people with sight loss
GuideConnect is intuitive to use, so that even if you're new to technology or lack confidence, it's easy to get started with the clear and simple menus.
Tweak the speech and magnification to suit your visual impairment and know that GuideConnect can evolve with you if your sight changes.
Large print that can be as big as you need, in the font and colours of your choice.
Every option is announced with a human-sounding voice - it's like having a person guiding you every step of the way.
GuideConnect on a Device that Suits you
My Current Computer
If you already own a Windows laptop or desktop, add GuideConnect and get back online straightaway. GuideConnect is the simplest way to email friends, download books and browse the web.Try GuideConnect free for 30-days and gain independence, organise your life and have fun.
Trial GuideConnect with a Dolphin Remote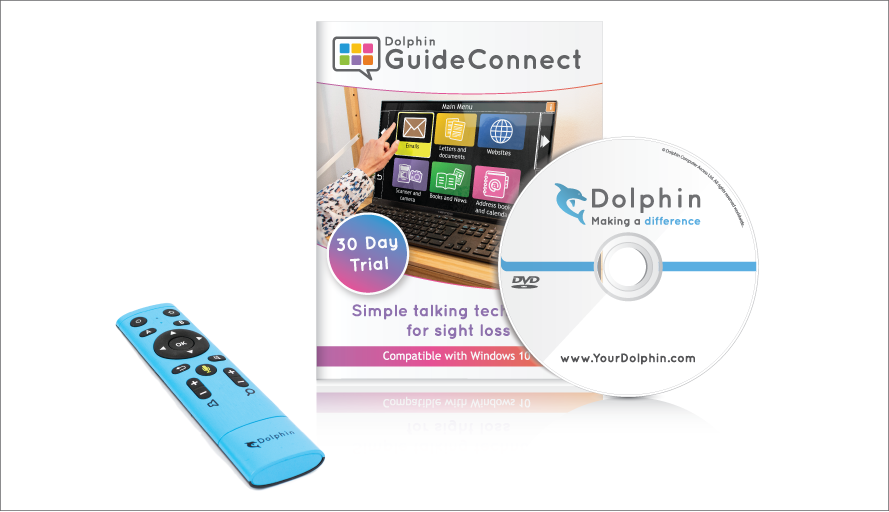 Try GuideConnect and the Dolphin remote for 30-days. All you need is access to a Windows 10 laptop, desktop or tablet and you can put GuideConnect and the remote control through its paces for a whole month and see if it's for you. For just £20 you'll receive a:
30-day trial of GuideConnect
30-day of UK phone support
Dolphin Remote (it's yours to keep)
Telephone training for 2 hours
Quick Start guide



"It was great to see how GuideConnect works – my colleagues and I all found it fantastic. It is nice and easy to demonstrate, and easy to navigate. I think it will go a fair way to helping people with computers and hopefully it will encourage independence."
Edward Bates, Adviser, Norfolk & Norwich Association for The Blind
"I think GuideConnect is great. It's very consistent across the system, which has a big impact on usability and user friendliness. It is very stable, it hasn't crashed or frozen once since I've installed it. The simplification of the main menu is superb. I've already seen seismic progress made by clients who have purchased GuideConnect. I like it a lot."
James Goldsworthy, Alternate Visions Coaching
"GuideConnect is excellent. It is better than Guide and I was very fond of Guide. I like the new layout and that it's an 'adult' system. GuideConnect is less simplistic; it is mature and professional – it feels like Guide has 'come of age'. It is easy to use, easy to understand and very friendly. Guide was a smashing idea, but GuideConnect has brought it the next step forward."
Michael McQuade, an early user of GuideConnect's predecessor
A better way to access your favourite book library
Enjoy direct access to browse, download and read from your local accessible book and newspaper libraries. Select a library to find out more, or browse the complete list:
Technical Information & More