GuideConnect FAQs
If you have a question about GuideConnect, we've answered the popular ones here: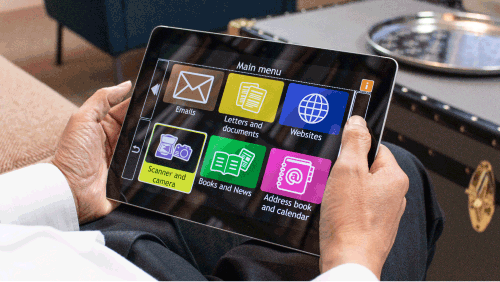 If your question isn't listed, let us know and we'll be sure to include it:
---
General FAQs
---
How can I try GuideConnect to see if it is for me?
You can try GuideConnect free for 30 days by downloading a free trial from the Dolphin website. If you'd prefer you can visit one of the many events we have scheduled across the UK.
I am visually impaired, will GuideConnect work for me?
GuideConnect has been designed for people with sight loss, by people with sight loss. It doesn't matter how much sight you do or don't have. Everything is accessible thanks to GuideConnect's large print talking menus and text.
My sight is deteriorating, will GuideConnect be able to evolve with me?
Yes. You can make the text larger. Or turn on the speech. GuideConnect is used by people with no sight, so no matter what happens to your vision, you can be confident that you have a solution that can change with you.
Can I add GuideConnect to my existing computer?
Yes. As long as your laptop or desktop computer is running Windows 10. Read the full explanation of what your computer must have to run GuideConnect.
---
Help, Training and Support FAQs
---
What training is included with GuideConnect?
Every GuideConnect (in the UK) comes with 2 hours of free telephone training. This training can be taken as 2 x 1 hour sessions. Further sessions can be booked directly with the trainer but must be paid for.
Who do I call when I need help with GuideConnect?
GuideConnect includes 1 years' access to Dolphin's award winning product support team. Call them directly on our UK phone number or email them with your questions. Product Support are open from Monday to Friday, 9am to 5pm.
What help is built into GuideConnect?
Packed with help, GuideConnect cleverly gives you just the help that's relevant to the task you're undertaking. Plus the help is written in plain English, so there's no acronyms or techie jargon to make sense of.
How do I get started with GuideConnect?
Included in GuideConnect are 4 video tutorials that walk and talk you through the basics. Learn how to use GuideConnect with:
---
Technical FAQs
---
Do I need an internet connection?
Yes. Most tasks require internet connectivity, including accessing books, newspapers, radio, email, the web and product updates.
What is the GuideConnect Actions menu?
Rather than making every task overly complicated, GuideConnect separates out the actions that you might want to take when you have completed a task. If you compose an email, the actions menu lets you decide if you want to spell check it, send it, save it to drafts etc. The actions menu presents you with a small list of options that are always relevant to the task you are completing. If you open a photo, the actions menu will let you rotate your photo, scan it for text, print it and more.
Can I dictate to GuideConnect?
Yes, GuideConnect now includes the option to dictate your emails, documents or perform a web search. At the moment, the voice input feature is only available in the English and Italian editions of GuideConnect.
How do I get the updates that are included in my purchase?
GuideConnect will notify you when a new update is available and you can choose when it is convenient to update.
Does GuideConnect work on a computer running Windows 7?
No. GuideConnect is compatible with Windows 10 only. Windows 7 is no longer supported by Microsoft and many of the newer technologies that GuideConnect uses behind the simple interface, are not supported by Windows 7.
Will GuideConnect work on Windows 11?
We are currently in the process of testing GuideConnect with Windows 11 from versions Microsoft has made available to us.
Our initial tests are positive. We will be able to confirm and provide further information as to whether GuideConnect supports Windows 11 once our testing is complete.
---
Tablet FAQs
---
Can GuideConnect be used on any tablet?
GuideConnect runs on any Windows 10 device including Windows 10 tablets. GuideConnect isn't compatible with iOS and Android tablets. A GuideConnect tablet package is available for purchase for UK customers.
Can I download GuideConnect from the app store?
No. You need to download a 30-day trial from the Dolphin website.
---
TV FAQs
---
How do I get GuideConnect onto my TV?
To use GuideConnect on your TV you need to purchase a GuideConnect TV box.
Will the GuideConnect TV box work with my television?
Much like any other set top box, it plugs into your TV via your HDMI port on the back.
---
Remote Control FAQs
---
I plan to add GuideConnect to my existing computer. Can I buy a Dolphin remote control to use?
Yes! A Dolphin Remote control is £20 to purchase and excludes VAT. Call us on 01905 754 577 to order yours.
How does the Dolphin remote control connect to my device?
The Dolphin remote includes a USB receiver that plugs into any free USB port. Typically most laptop and desktop computers would be suitable.
---
Existing Guide User FAQS
---
What is the difference between GuideConnect & Guide?
GuideConnect is Guide's new big brother; it does many of the things Guide used to do, but it's even simpler and more intuitive to use. Compatible with the full range of devices, use GuideConnect on a tablet or a TV box, portable laptop or everyday desktop. GuideConnect fits into your lifestyle and how you use GuideConnect is flexible too. Choose the remote control for leisurely access from the comfort of your sofa. The effortless touchscreen access is perfect for tablet users or laptops with touchscreens. And if you're used to a keyboard and mouse they're good for your computer.
GuideConnect is packed with artificial intelligence, but unlike using an iPad with your sight loss, GuideConnect is always easy to see and easy to learn. There are no complex gestures to remember and everything is in large print text with high contrast colours. Read our 10 Reasons why Guide Customers Should Upgrade to GuideConnect.
Are the keystrokes the same on GuideConnect as they are on Guide?
Many of the important GuideConnect keys are identical to Guide, including the up and down arrow keys, F1 for help. However some of the more complicated Guide keys have been simplified so they are now single press and more intuitive to use.
I am already a Guide user. Can I upgrade to GuideConnect?
Yes. All upgrades include updates for 1 year and the cost depends on which version of Guide you currently own:
• Guide v9 - £355 (inc free updates for 1 year)
• Guide v8 or earlier - £372 (inc free updates for 1 year)
Does my Guide SMA cover me for the upgrade to GuideConnect?
Yes. If you have an active or current maintenance agreement, GuideConnect is available as one of your 'hits'. Talk to the sales team to request your licence.
Are all the features of Guide available in GuideConnect?
Nearly. Some of the less popular features and some of the out-of-date technologies aren't included. GuideConnect also has an accessible video calling service which is free for GuideConnect users with a Premium Plan.
---
Hardware Package FAQs
---
What warranty is included with the packages?
1 year warranty is included with all GuideConnect packages.
How do you deliver my GuideConnect package?
All of our packages are delivered by courier. But there's no need to worry, everything is ready straight from the box. There's no set-up or configuration required.
Are any of the GuideConnect tablet, TV Box, laptop or Desktop packages available outside the UK?
Unfortunately not. We recommend contacting your GuideConnect distributor for your location.