Make learning resources accessible with EasyReader Premium
Published:

Read and Learn anywhere
Discover how your students can read PDFs from Google Classroom and Microsoft Education with EasyReader Premium.

Equal access to learning resources is easy with the latest improvements available in EasyReader Premium. Find out how you can remove barriers to reading so your students who are neurodivergent or visually impaired can learn in line with their peers at school and at home.
Open and read text-based PDFs
Students with an EasyReader Premium subscription can now open and read text-based PDFs with EasyReader App. This enables students to read a range of learning resources including worksheets, handouts, journal articles, book excerpts and more.
PDF is a popular file format used by schools, colleges and universities around the world. However, by displaying information in a fixed layout, PDFs often present accessibility barriers for students with dyslexia or visual impairments.
The latest improvements to EasyReader Premium mean your students can:
Open text-based PDFs from their device, Google Classroom and Microsoft Education.
Listen to PDFs read aloud by a natural-sounding voice.
Read along with text to speech - each line and word is highlighted on screen as it's read aloud.
Zoom in and read the PDF in its original layout.
Or use a text-only view for a more accessible reading experience.
In the text-only view, the PDF is reflowed. This means the text stays within the edges of the screen when zooming in. It also includes options for students to read the PDF in their preferred colours, fonts and spacing.
Please note:
EasyReader Premium subscribers can open PDF files from their device, Google Classroom or Microsoft Education. EasyReader App v10.04 or later is required to open and read text-based PDFs.
Members of the RNIB Bookshare Education Collection are still able to open and read PDFs using the free EasyReader App.
Share learning resources on Google Classroom and Microsoft Education
Subscribe to EasyReader Premium and your students can browse and read learning resources the teacher adds to Microsoft Education or Google Classroom.
This enables your school to use its existing learning resource platforms and still provide an inclusive experience for all students – including students who use assistive technology to read.
Learning resources shared by teachers are instantly available in EasyReader – this removes the need to send resources by email or on a USB.
Teachers can share the same learning material with all students at once.
Students can read in a way that is accessible for them, with their preferred reading voice, fonts, colours and spacing.
EasyReader Premium enables students to open and read resources shared as text-based PDF, Word, ePUB and text files. Once downloaded, resources are saved to the student's book list to read on any compatible device with EasyReader App.
Unlock education-centred features in EasyReader Premium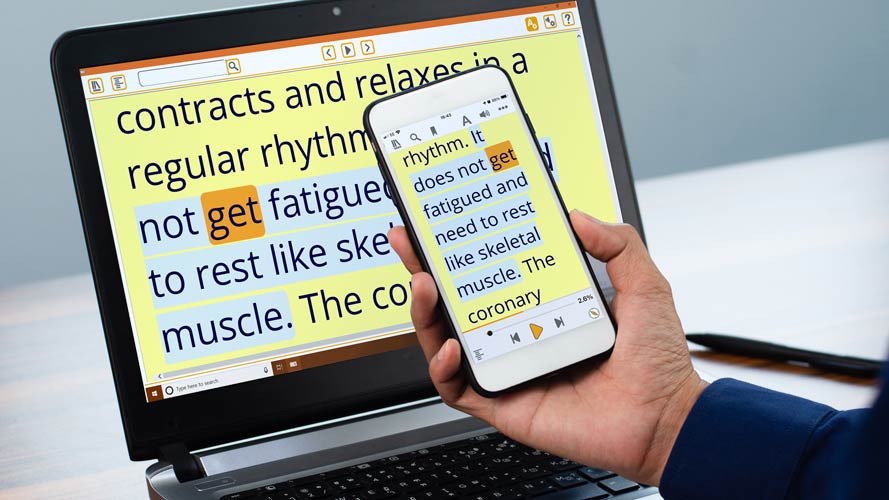 Wherever they study, EasyReader Premium enables students to read their accessible books and learning resources on any compatible device – including Mac.
With EasyReader Premium, you can:
Continue reading where you left off with your book list, reading positions and preferences saved across devices.
Sign in to Google Classroom and Microsoft Education to read resources shared by teachers.
Read text-based PDF files in their original layout or in a text-only view with preferred fonts, colours and spacing.
Choose from a range of high-quality reading voices.
Purchase an education subscription to manage student access to premium features.
Visit the Dolphin website to learn more about EasyReader Premium and discover how to provide an accessible reading experience for your students.
EasyReader App
The free EasyReader App opens a world of accessible books for people who are blind, partially sighted or have dyslexia.
Accessible libraries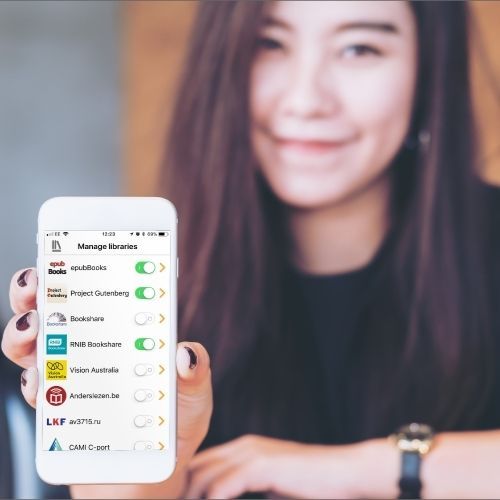 Dolphin partners with accessible book libraries and newspaper services around the world, to make reading accessible.
Over 1 million accessible books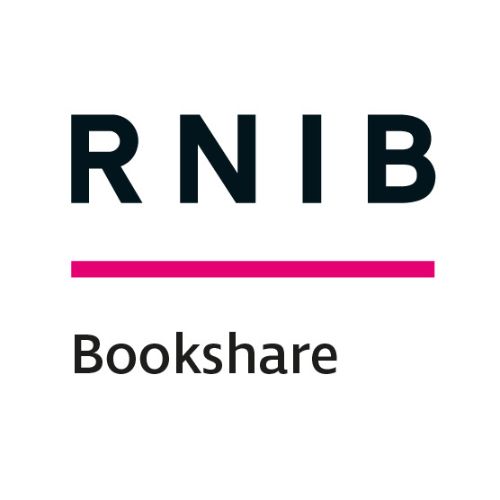 Find out how RNIB Bookshare provide UK students with over 1 million educational titles in accessible formats.