Convert Word docs to large print, braille, MP3 & ePub
Make the Curriculum Fully Accessible for all Students
It might seem impossible to find the time or money to make accessible formats for every student with a reading difficulty or visual impairment. But with EasyConverter Express you can do this easily, quickly and affordably.
Empowering teaching professionals in schools, colleges and universities, EasyConverter Express is the simplest way to create alternative format versions of learning materials, on demand and without delay. Convert Word documents to braille, large print and audio formats in just 3 clicks.
Ensure all your students are actively learning and fully engaged with access to the whole curriculum - download EasyConverter Express free for 30-days.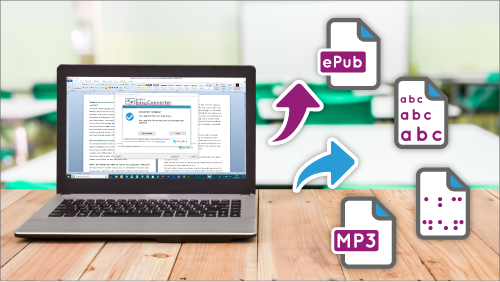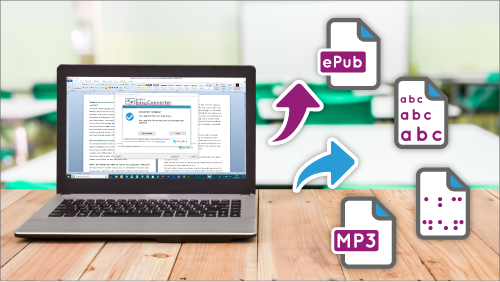 Summary
Convert any Word 2010, Word 2013, Word 2016, Word 2017, Word 2019 or Office 365 docs
Create braille, large print, MP3 and text-only ePub formats
Simple 3 step conversion, no experience required
Access directly from Word's ribbon bar
Deliver the curriculum to ALL your learners
Whether you are a university, college or school, providing your communications in a range of alternate formats ensures you are delivering the full curriculum to the widest possible range of learners.
With EasyConverter Express you can offer accessible communications to students, pupils and parents with:
low vision or blindness
dyslexia or specific learning difficulties
visual processing problems
congnitive differences
poor reading speed
low literacy
non-native language skills
limb differences that may make holding paper difficult
Technical Information & More
Technical Information
---
More Information
---