Free EasyReader App - Now with Calibre Audio
Published:
Dolphin is delighted to announce that audiobooks from Calibre Audio are now available to borrow, download and read in the latest update to EasyReader for iOS, Android and Kindle Fire

.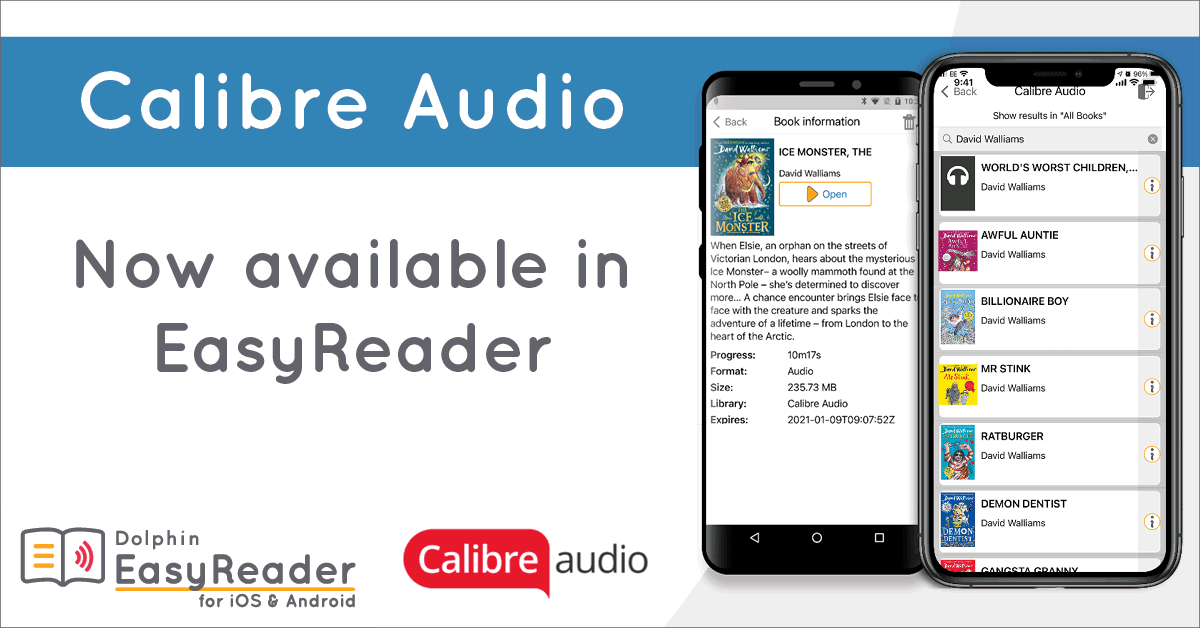 Designed for people who have a visual impairment or dyslexia, Dolphin EasyReader is a free accessible reading app. It provides direct access to the world's largest collection of accessible book and newspaper services. Rated as the world's most accessible reading app by EPUBTest.org - EasyReader enables people with a print impairment to enjoy books with perfectly synchronised text and audio and their choice of text size and colours.
Titles from Calibre Audio are included in the latest update to EasyReader 2.13. This update is available now for Apple iPhones and iPads, Android smartphones and tablets and Kindle Fire tablets.
Calibre Audio – Now available in EasyReader
With more than 12,000 audiobooks, Calibre Audio is one of the UK's most popular audiobook collections available to people who have a print-based disability. The collection offers accessible audiobook versions of the latest bestsellers, classic literature, non-fiction titles and more than 3000 books specifically for children and young readers.
"We are thrilled our books are now available to download on the Dolphin EasyReader app. Its exceptional accessibility, specifically designed for readers with dyslexia and vision impairments, offers Calibre members a new and easy way to listen to our books whenever and wherever they choose."
Anthony Kemp, CEO of Calibre Audio
With the latest update to EasyReader, members of Calibre Audio can now sign in to browse the entire collection in EasyReader at their leisure. Up to four books can be borrowed at any one time and read in comfort with EasyReader on a smartphone or tablet. After 30 days, EasyReader automatically returns each title back to Calibre, so members can browse the collection again and borrow more.
To help members to get started, Calibre Audio have written a helpful user guide for using the Calibre service with EasyReader. This user guide is available now at the Calibre Audio website.
If you are a UK citizen and have a print impairment, you can join Calibre Audio for free. Find out more including how to join at Calibre Audio
Also New in EasyReader 2.13
In addition to the inclusion of Calibre Audio, the 2.13 update includes a host of improvements for EasyReader for iOS, including:
New for iOS - Support for Dynamic Fonts in iOS. iPads and iPhones include an accessibility option called 'Dynamic Fonts'. This setting allows for a larger font size to be used on the device home screen and menus. This makes text clearer for people with visual impairments. Now in EasyReader 2.13 - if Dynamic Fonts have been enabled - the larger font size is now applied within the EasyReader user interface as well.
New for Android - Significant improvements to the playback of text and audio books. These improvements enable users to enjoy listening to titles for long periods at a time without the playback pausing.
New -

Norwegian language update. EasyReader 2.13 now includes improvements for the

Norwegian translation.

Fix - Improvements to book cover images. Improvements have been made to prevent the book cover images from flickering when viewed in a list of titles.
Plus - Additional fixes and improvements.
Discover EasyReader
If you're new to EasyReader: