GuideConnect 1.15 Update - Released Today
Published:
A free update to GuideConnect 1.15 has been released today. This free update includes an all-new Video Calling feature, making it easier than ever for people with sight loss to connect with their loved ones.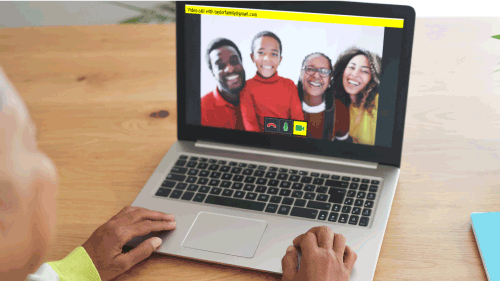 The update to 1.15 also includes a host of further improvements, to make it easier to send emails, write documents, visit web pages and more. Additionally, the 1.15 GuideConnect update also introduces in-product notifications to inform customers when a Premium Plan is due for renewal.
This update is available immediately for all GuideConnect customers based in the UK, USA, Canada, Australia and New Zealand. It can be installed through the GuideConnect Internet Updater.
Visit the GuideConnect pages for full details of version 1.15 improvements and bug fixes.
---
New in GuideConnect 1.15
GuideConnect Video Calling
Video Calling is the perfect way to stay in touch, share a story and a smile with loved ones, especially if you can't be together in person. Mainstream video calling services such as Zoom, Facebook and WhatsApp can be tricky to use, even for those with full sight and plenty of computer experience.
In GuideConnect 1.15, Dolphin introduces and exciting new Video Calling feature. This makes it even easier for people who are blind or partially sighted to connect and keep in touch with loved ones.
The new Video Calling feature enables users to:
Make video calls to friends and family and other people using GuideConnect through simple step-by-step menus

Add friends as 'favourites' to easily identify if they are online and available for a video call

View their call history, including any missed video calls

Turn their microphone and camera on and off whilst in a call – with high-contrast, accessible buttons.
Video Calling is the first premium feature added to GuideConnect and is exclusive to GuideConnect customers with an active Premium Plan.
Find out more about GuideConnect Video Calling
---
Dolphin Video Calling Service - for Friends & Family
Now available on the Dolphin website
To coincide with the launch of GuideConnect 1.15, Dolphin introduces the Dolphin Video Calling Service for friends and family.
For friends and family, video calling offers a safe way to check in with your loved ones, especially if they live far away and are visually impaired. You can be reassured they are getting on well and are happy, healthy and safe.
Friends and family of GuideConnect customers can now sign up for a free Dolphin Account and use the new Dolphin Video Calling Service on their smartphone, tablet or compueter.
Find out more about Friends & Family Video Calling Service
---
Premium Plan Notifications
Every copy of GuideConnect now includes a 12-month Premium Plan. This was previously known as GCAS. With Premium Plan, GuideConnect customers are entitled to:
Premium features including video calling

Regular updates containing new features and improvements

Priority support from the Dolphin Product Support Team
GuideConnect 1.15 includes in-product notifications of Premium Plan expiry to help users ensure their plan is up to date.
Find out more about Premium Plan
---