Magnification for Windows that grows with your students' education and their sight
Choose the world's best screen magnifier for Windows and give your low vision students crystal clear, magnified access to the full curriculum.
Enlarge and enhance everything on screen with high contrast colours, large mouse pointers and highlights that help students track their every move.
Powerful yet intuitive, SuperNova Magnifier is flexible for learners of all ages. Split the laptop screen, half magnified to see the detail, half standard size to keep perspective. For detailed tasks zoom in for total clarity.
Plus SuperNova Magnifier gives students magnified access to class handouts, the interactive whiteboard and accessible editions of textbooks
Download a free 30-day of SuperNova Magnifier.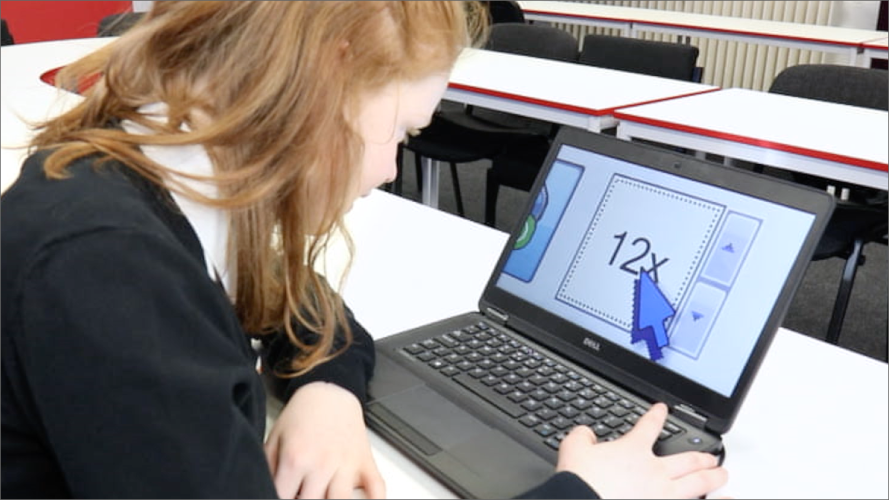 Summary
With SuperNova Magnifier's crystal clear magnification all your students can:
Optimise the magnification to suit their sight and their task
Select a high contrast colour scheme
Select focus highlights and large mouse pointers that they can see
Magnify class handouts with a document camera
Magnify the interactive whiteboard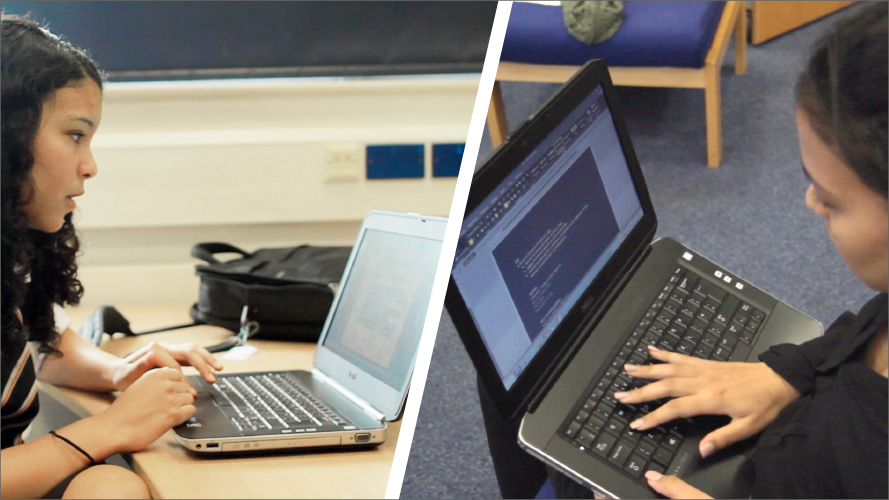 Grows with your Students' Sight and their Education
If your students' sight fluctuates over the course of the day, or over time, SuperNova Magnifier can adapt with them. Students can:
Boost magnification on 'bad eye' days
Change the screen colours for low contrast apps
Zoom in to see the detail or when their eyes tire
Select a large mouse pointer so they never lose sight of the action
Book a Video Demonstration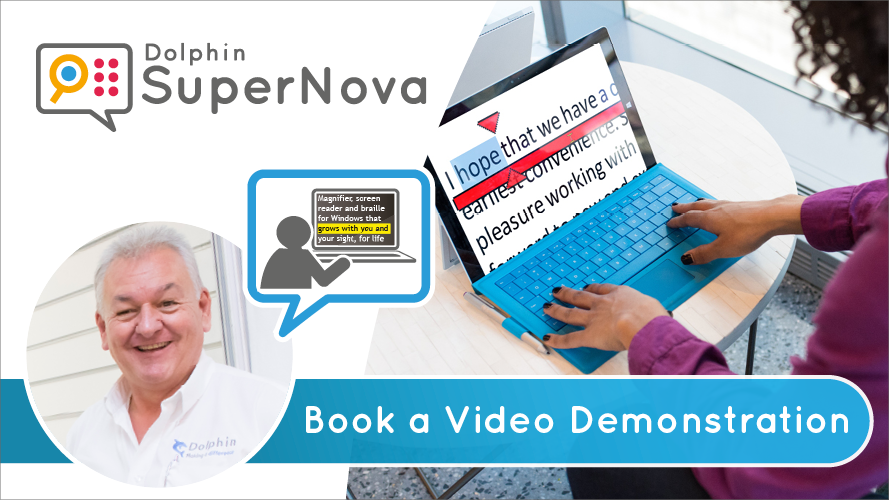 Considering SuperNova Magnifier for your low vision students?
Why not book a guided tour complete with live video and Dolphin's Dave will answer as many questions as you have.
There's no charge and it's super simple. All you need is a phone, tablet or a computer - no IT skills required!
Free Resources for DSA Assessors
Keeping on top of the latest solutions to support students with disabilities can be challenging. To help, we've compiled a useful collection of resources for Disabled Student Allowance (DSA) Needs Assessors to support students with visual impairments.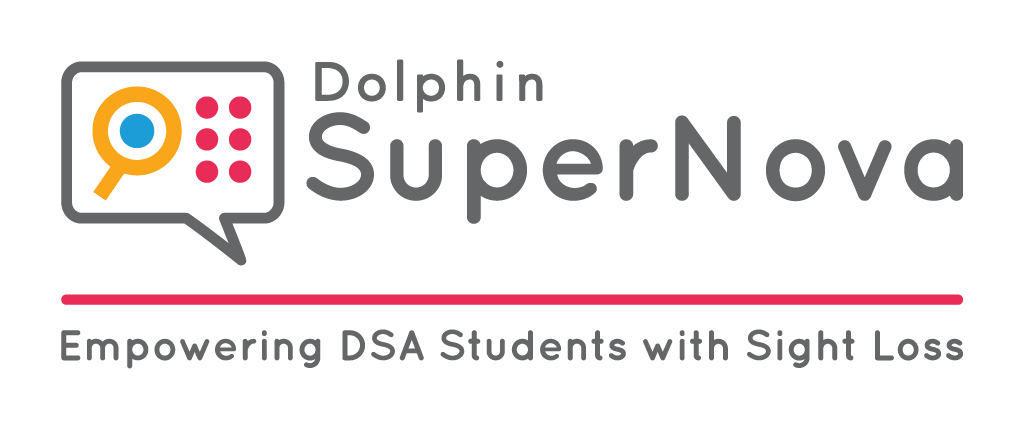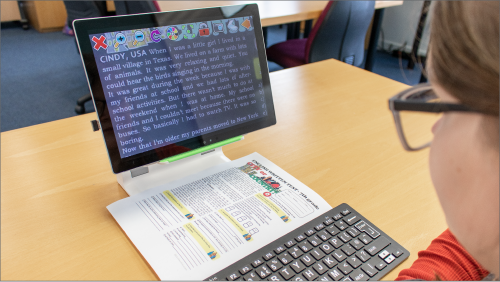 5 devices in 1
Connect & Learn has been designed for low vision students who need a portable video magnifier and a lightweight windows laptop. Unlike other popular sight loss solutions, there is no compromise. Connect & Learn is all these devices in one solution and delivers:
Digital video magnifier with scan and read
The world's best magnification on a full Windows 10 laptop
Whiteboard magnifier
12.3" tablet with intuitive touchscreen magnification
Accessible book reader
A portable and lightweight device, with a collapsible stand and carry bag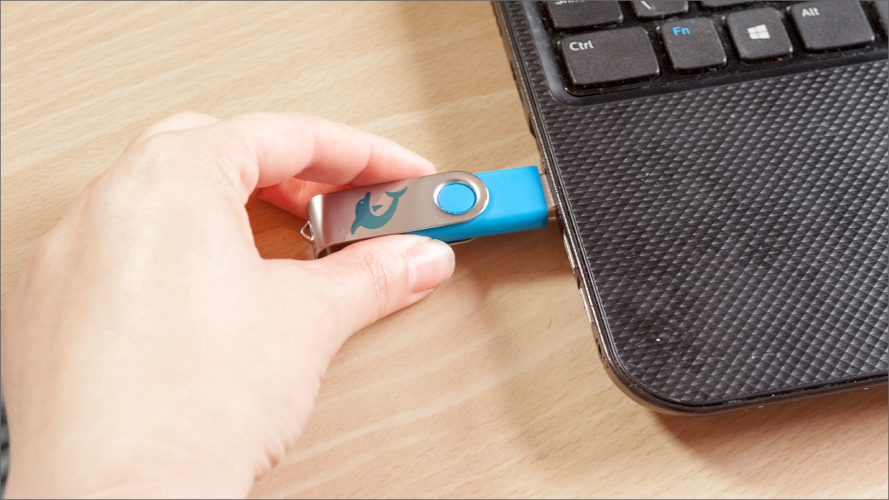 Summary
Choose SuperNova USB for instant magnification on any computer or Windows tablet!
Students can plug their SuperNova USB into any free USB port and experience instant access to their favourite SuperNova features, complete with their exact SuperNova settings.
Ideal for moving around school or college and when studying at home; with the SuperNova USB there is no hassle or set-up required!



"It has made a huge difference because I have been able to access a computer like everybody else and I've been able to read books like everyone else. It's made a big difference because I can see everything now. "
Amy, Student at New College Worcester
"The Licenses we use are the home school agreement that Dolphin have been very supportive of, with us over the last few years, so a lot of the students, should they choose, will have exactly the same system at home, as they have at school. So the students have that consistency of approach, and I think the benefits of that are obvious."
John Rous-Milligan, Team Leader, Norfolk Council Sensory Support
"Big learning curve today. Attempted my first power point presentation ever. Could not have done it without #SuperNova"
@saheaton
Technical Information & More