Magnification for low vision clients and employees
Choose the world's best screen magnifier for Windows and give your low vision service users crystal clear, magnified access to all your computers.
Enlarge and enhance everything on screen with high contrast colours, large mouse pointers and highlights that help users track their every move.
Advanced yet intuitive, SuperNova Magnifier is flexible for every task. In the office - choose multiple apps magnified across multiple monitors. Split the laptop screen, half magnified to see the detail, half standard size to keep perspective. Detailed task - zoom in for total clarity. Add a document camera and SuperNova Magnifier users can even magnify and view documents on screen.
Download a free 30-day of SuperNova Magnifier.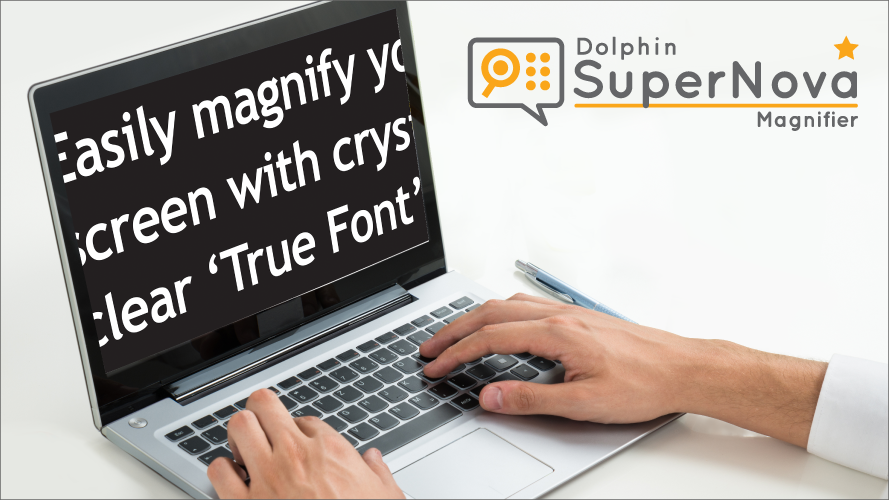 Summary
Crystal clear magnification and high contrast colour schemes
8 magnifier views including full screen, split screen and magnifying glass
Magnify across multiple monitors
The best touchscreen magnification for Windows
Hundreds of large mouse pointers to choose from
High contrast focus highlights for the mouse pointer, cursor, word, line and more
Connect a camera and view documents and pictures magnified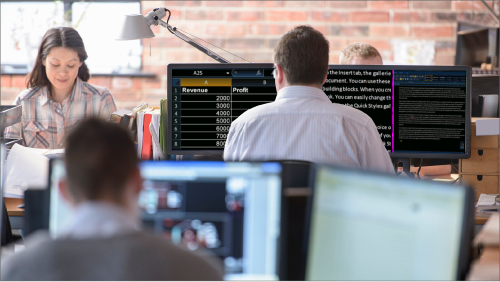 The World's Best Screen Magnifier for Windows
Equip your users with the best magnification for Windows. Crystal clear text as big as your service users require, in colours they can see. Coupled with a touchscreen laptop or tablet, SuperNova's magnification is effortless and second to none.
Plus because SuperNova is easy to learn, your clients can quickly choose their perfect magnification settings; then sit back and let SuperNova take the strain while they focus on the task in hand.
Book a Video Demonstration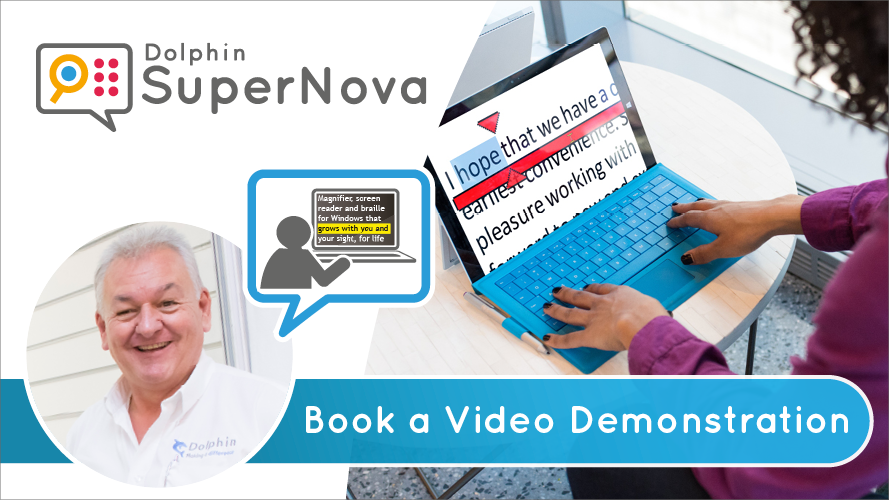 Considering SuperNova Magnifier for your low vision clients or employees?
Why not book a guided tour complete with live video and Dolphin's Dave will answer as many questions as you have.
There's no charge and it's super simple. All you need is a phone, tablet or a computer - no IT skills required!
SuperNova Large Print Keyboard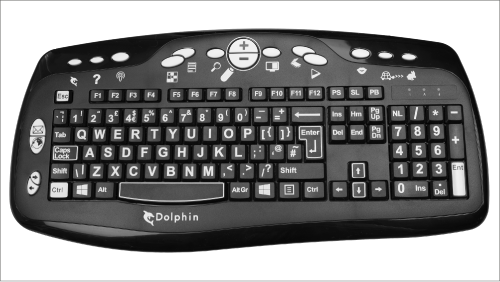 Summary
The SuperNova large print keyboard is designed for clients who struggle to see the lettering on their keyboard:
Large print letters (44-point, capital letters)

High contrast 'white on black'

18 'Quick Buttons' for quick access to users' favourite SuperNova features
Available in UK, US, Arabic, Italian, Swedish and German keyboard layouts.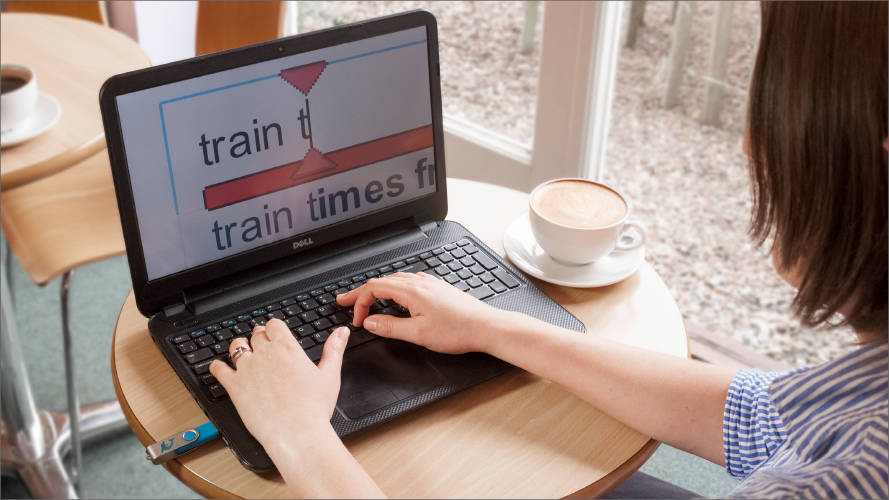 Summary
SuperNova Magnifier & Speech is also available as a USB - bringing instant magnification to any computer or Windows tablet!
Users can plug the SuperNova USB into any free USB port and experience instant access to their favourite SuperNova features, complete with their exact SuperNova settings.
No hassle or set-up required!



"It is very user friendly, good product back up which is based in the UK."
Caryn Reavy, Grimsby Institute
"The whole package is fantastic but the feature I like most is click and read. This allows me to pick out the areas that I wish to read rather than read the whole document or page."
Mark Abel, Worcestershire Health and Care NHS Trust
"SuperNova is a significant breakthrough especially for partially sighted people buying new Windows PCs. Having SuperNova's excellent colour and size options is a huge improvement over the basic Windows Magnifier for students and professionals with sight loss."
Steve Griffiths, RNIB
Technical Information & More