Guide Features
---
Fully Accessible:
---
Human sounding voices read everything aloud
Guide comes with a choice of friendly male and female voices that read everything aloud.
Pick your preferred voice, choose how fast or slow Guide talks to you and then you're ready to start!
Daniel
Your browser does not support the audio element.
Kate
Your browser does not support the audio element.
Serena
Your browser does not support the audio element.
Allison
Your browser does not support the audio element.
Tom
Your browser does not support the audio element.
Magnify the Screen
Guide allows you to magnify the screen and zoom in for the detail, ensuring everything on the screen always remains crystal clear.
High contrast colours
Choose a high contrast colour schemes that suits your sight.
The carousel below illustrates various colour schemes, changing the colours for the background, menu, text and highlighting:
Touch the Screen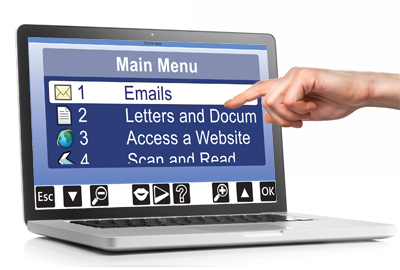 Using a touchscreen with Guide is very simple, even if you've never used a touchscreen before:
• Use one finger to explore.
• Tap with two fingers to start and stop the speech.
• Stretch two fingers apart to zoom in for a closer look.
---
Communicate:
---
Send & Receive Emails
Send, receive and reply to emails with Guide. It's unbelievably easy! Write new emails to keep in touch with friends and family. Read messages from loved ones; choose the message you want to read, and Guide will read aloud the message as well as showing it in large print. If photographs or other images are included, Guide can magnify these for comfortable viewing.
Surf the Web
Access a world of information with just 4 keys. Simply use the up and down arrow keys to move about and Guide will highlight and read aloud each piece of text. Press enter to follow links and learn more. Press Escape and you can search for absolutely anything.
Make Free Telephone Calls with Skype
Receive and make free Skype telephone calls to any location in the world using Guide and the Internet.
---
Read More:
---
Read Your Post & Letters
Add a scanner and Guide turns your computer into a reading machine. Place your post, letters or other printed documents in the scanner and at the touch of a button, Guide reads aloud the text, displaying it in large print also.
Browse & Read Millions of Books with Guide
Browse from millions of books, magazines and periodicals or search for your favourite author. Finding and reading accessible books is simple and straightforward with Guide. Guide enlarges the book's text making it easy to see and natural voices read along simultaneously. If you prefer to read away from your computer, Guide will also transfer your book to a more portable device.
Video: Learn more about Guide's access to books and newspapers.
---
Entertainment:
---
Play Games*
Guide includes a suite of games for your entertainment; and, just like the rest of Guide, all the games are simple to use and fully accessible for users with little or no sight. Choose from:
Classic Hangman - Guess the word within 10 attempts. Choose from 4 different levels of difficulty. We've also included a hint feature for those really difficult words!
Kountdown - Given 6 numbers and a target value, you have to add, multiply, divide and subtract the numbers to reach the target total. Choose from 4 different levels of difficulty.
Anagram - Re-arrange the letters to find the jumbled word. Choose from 4 different levels of difficulty. If you get really stuck, you can even cheat and let Guide show you the answer!
Typing Tutor*
If you're new to a computer, Guide's typing tutor enables you to explore the keyboard and learn where each key is and what it does. Ideal for novices, the typing tutor includes 16 lessons to support your progression and confidence.
Listen to Radio & podcasts
Listen to your favourite radio stations and podcasts from around the world. Or enjoy BBC radio** from the past 7 days replayed at the touch of a button.
Play DVDs, CDs and MP3s
Play audio CDs, MP3s or watch DVDs with Guide. Play, start, stop, pause, skip-forward or skip backwards are all fully accessible and you can even leave the music playing, while you go and use other parts of Guide.
Read the Latest News
Access the latest news headlines, delivered instantly and direct to your computer.
* The Typing Tutor and some games are not included in non-English editions of Guide. ** BBC Listen Again is only available to UK customers.
---
Get Organised:
---
Write Letters and Documents
Guide takes you through the whole process of writing letters and documents, using clear audio instructions and reading out text as it is typed. Guide helps you professionally format your letter. Guide will even print your envelope for you!
Calendar Appointments and Reminders
Enter appointments in a calendar and choose to be reminded of important events. View your calendar month by month, day by day or hour by hour. Filter your calendar to show just free or just busy times.
Organise Contacts in your Address Book
Store postal addresses, telephone numbers, email addresses and notes for all of your contacts. Search to find a specific contact.
Spell-Checker & Dictionary
Spell-check your emails, letters or anywhere you are typing text. If Guide spots a spelling mistake it makes a sound to alert you.
Magnify Handwriting and Photos
Place your treasured photos, or handwritten letters on the scanner and Guide will magnify them on screen. Zoom in or out for more detail. Change the colour to a contrast that betters suits your sight.
Print, Re-size and Crop photos
Plug a digital camera into your computer to instantly view and magnify your photos. The images can also be printed out and resized or cropped.
Calculator
Use the calculator for basic or more advanced calculations! The calculation and answer can be magnified and, as usual, Guide will read it out.