SuperNova 21 now available
Published:
Includes Place Markers for web pages and performance improvements in Microsoft Word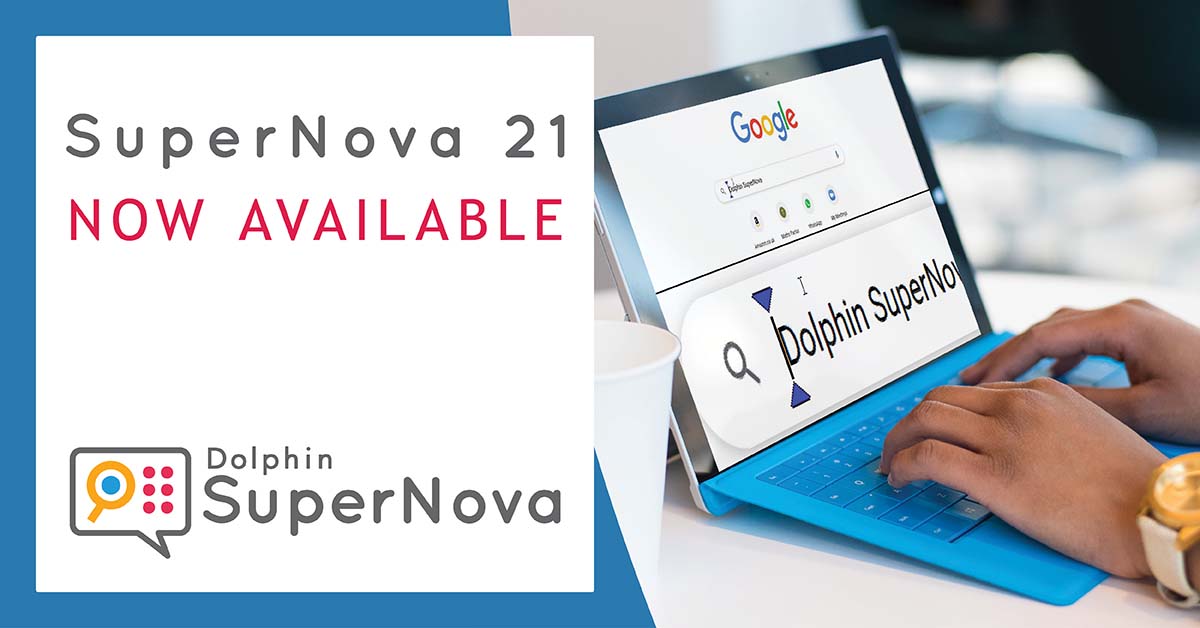 Dolphin is pleased to announce that version 21 of SuperNova and Dolphin ScreenReader is now available. This latest release enables people who are blind or partially sighted to navigate favourite web pages quickly and easily by adding Place Markers. The upgrade also includes performance improvements for using SuperNova with the latest versions of Microsoft Word, along with a host of additional fixes and improvements.
New in SuperNova 21
The upgrade to SuperNova and Dolphin ScreenReader 21 includes:
New: Place Markers
Every web page is different, so when it comes to navigating web pages with assistive technology, flexibility is key. With Place Markers, people who are blind or partially sighted can add a tag to any text, heading, link, field or button on any web page so they can navigate to it again quickly. This provides increased flexibility and quicker navigation.
New: Performance improvements in the latest versions of Microsoft Word
SuperNova magnification, speech and braille is now faster to respond in Microsoft Word 2019 and 365. This enables people using SuperNova to be more productive when typing, reading and navigating Microsoft Word documents.
New: Update to Hotkey Helper
Find and discover SuperNova shortcut keys easily. The update to the Hotkey Helper enables users to search for keys by feature name (e.g. search for "magnification"), supported application (e.g. search for "Microsoft Word"), or keypress (e.g. search for "NUMPAD ENTER" or any other key). Please note: The Hotkey Helper is currently available in English only.
New: Support for Microsoft OneCore voices
With voices available in 49 languages, support for OneCore voices means SuperNova 21 customers have an even greater choice of text-to-speech options.
Plus: A host of additional fixes and improvements
These include the ability to navigate web pages by paragraph or text block (instead of one line at a time) and fixes for using SuperNova with Windows 11, Microsoft Office and more.
Upgrade to SuperNova 21
The upgrade to SuperNova 21 is now available in 30 languages and will be rolled out to existing customers over the next few weeks.
Customers who have an active Software Maintenance Agreement (SMA) will be able to install version 21 free using the Internet Updater in their SuperNova or Dolphin ScreenReader software. Once installed, software licences of SuperNova 21 are automatically registered and ready to use. Users will not need to enter any new codes to register their software licence.
SMA holders who purchased their software directly from Dolphin will also receive confirmation of their upgrade to version 21 via email.
If you use SuperNova but do not have an active SMA, you can upgrade to SuperNova 21 by contacting your local Dolphin office or Dolphin dealer.
Try SuperNova 21 free for 30 days
30-day trials of all editions of SuperNova and Dolphin ScreenReader are available to download and are open to everyone. Product support is included for all customers during their trial.
Important information for people using Windows 7 and Windows 8.1
Dolphin wants to ensure people who are blind or partially sighted get the most from the latest updates to the Microsoft Windows platform. To continue delivering accessibility to these latest innovations, SuperNova no longer includes support for devices that run Windows 7 and Windows 8.1. While SuperNova may continue to run on Windows 7 and 8.1 devices, the Dolphin team is not able to fix any issues that occur on these operating systems.
If you currently use SuperNova on a device which runs Windows 8.1 or earlier, please contact our friendly team in the UK for advice on computer packages that support the latest upgrade to SuperNova 21. If you live outside the UK, please contact one of our trusted local Dolphin dealers for further advice.