Is sight loss stealing your independence?
Technology can help you reclaim some of that independence. But what if you're a total beginner or just not confident?
Designed for people with sight loss, GuideConnect is different:
Simple step-by-step menus walk and talk you through every task
Text and icons as big as you need
Friendly voices patiently guide you at a pace that suits you
Use the remote control, touch, mouse or keyboard – or add text with your voice
And if your sight is deteriorating, GuideConnect can adapt as your needs change
The simplest way to stay independent, connected and entertained, choose GuideConnect and you'll soon be …
Sending & receiving emails
Managing your own calendar
Writing letters and listening to your post read aloud
Online – researching, pursuing new hobbies and reconnecting with old friends
Listening to audio books or today's newspapers, delivered daily to GuideConnect
We're so confident you'll succeed with GuideConnect, we guarantee it! If you don't LOVE GuideConnect, return it in 30-days and we'll give you your money back.
Summary
Simple step-by-step menus help you complete every task
High contrast large print text, as BIG as your eyes need
Human sounding voices guide you every step of the way
Touch, remote, keyboard or mouse access
Voice input - dictate your emails, documents or search the web
The simplest way to write, send and receive email
Compose letters and print envelopes
Effortlessly browse the web
Scan and read your print mail
Listen to audio books or today's newspapers
Maintain a calendar and receive timely reminders
Play music or listen to your favourite radio stations
12 months of GuideConnect Annual Support
Got questions? Read the GuideConnect FAQs
Thoughtfully designed by and for people with sight loss
GuideConnect is intuitive to use, so that even if you're new to technology or lack confidence, it's easy to get started with the clear and simple menus.
Tweak the speech and magnification to suit your visual impairment and know that GuideConnect can evolve with you if your sight changes.
Large print that can be as big as you need, in the font and colours of your choice.
Every option is announced with a human-sounding voice - it's like having a person guiding you every step of the way.
Book a Video Demonstration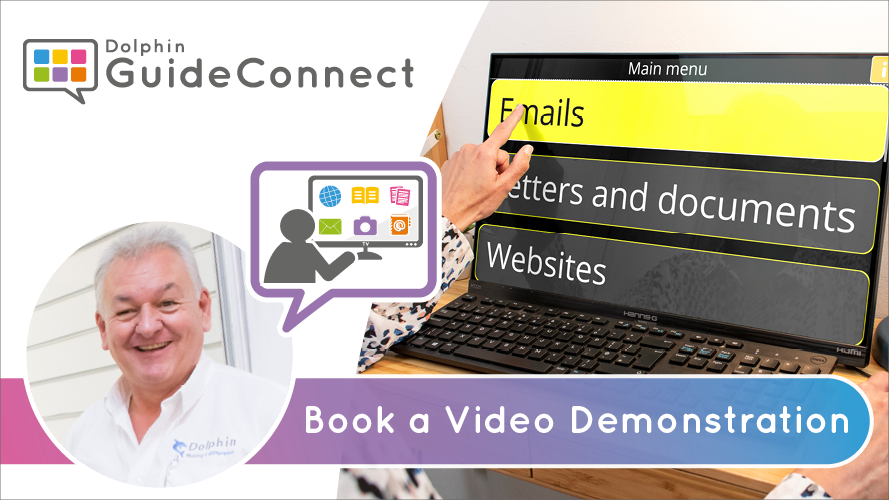 Think GuideConnect might be for you? Or someone you know and support?
Why not book a guided tour complete with live video and Dolphin's Dave will answer as many questions you have.
There's no charge and it's super simple. All you need is a phone, tablet or a computer - no IT skills required!
GuideConnect on a Device that Suits you
My Current Computer
If you already own a Windows laptop or desktop, add GuideConnect and get back online straightaway. GuideConnect is the simplest way to email friends, download books and browse the web.Try GuideConnect free for 30-days and gain independence, organise your life and have fun.
Trial GuideConnect with a Dolphin Remote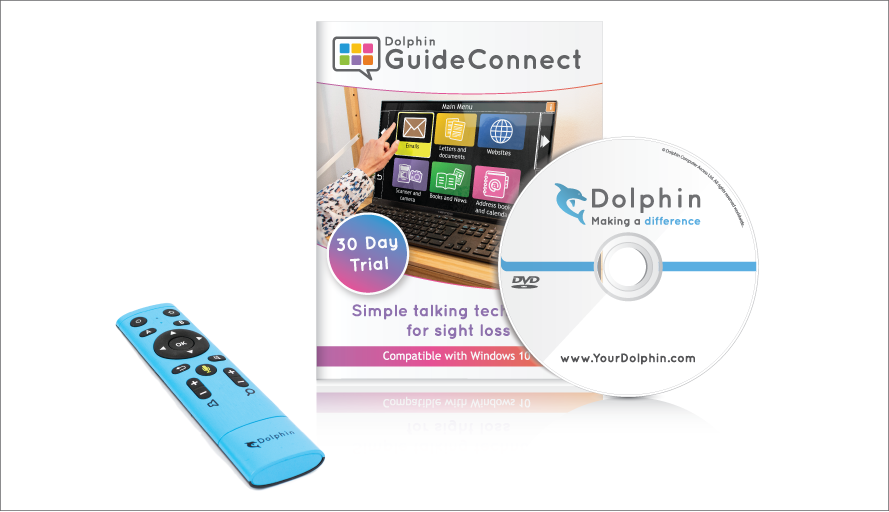 Try GuideConnect and the Dolphin remote for 30-days. All you need is access to a Windows 10 laptop, desktop or tablet and you can put GuideConnect and the remote control through its paces for a whole month and see if it's for you. For just £20 you'll receive a:
30-day trial of GuideConnect
30-day of UK phone support
Dolphin Remote (it's yours to keep)
Telephone training for 2 hours
Quick Start guide



"My clients are usually elderly and often just want a computer for day-to-day activities like sending emails. If they're nervous of technology, I suggest GuideConnect. I just feel that GuideConnect is ideal for my clients who are older, learning to cope with sight loss and just want simple computer access. Sending emails to friends, writing their own letters and searching the internet helps them feel positive, involved and less lonely."
Julie Duffy, Visual Impairment Officer, Portsmouth Library Service
"GuideConnect is intuitive for even the most reluctant of computer users. It is extremely easy to navigate and suitable for all levels of sight loss. We are able to easily show people how to create and edit documents, send emails, surf the web and more within an hour. Already a market leader in their field, Dolphin Computer Access have surpassed themselves with GuideConnect."
Bernadette Merrien, AT Worker, Kent Association for the Blind
"GuideConnect has made such a difference to Michael – his sister has commented that he's so much happier in himself – he's invigorated. Even at this early stage, GuideConnect has completely opened up the world for him. He loves being able to swap emails and keep in touch with his whole family."
Irene Sheffield, daughter of Michael Barrett
A better way to access your favourite book library
Enjoy direct access to browse, download and read from your local accessible book and newspaper libraries. Select a library to find out more, or browse the complete list:
Technical Information & More
More Information
---
Technical Information
---